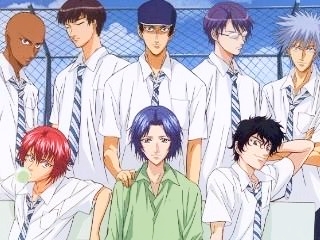 Rikkai (立海), or Rikkaidai Fuzoku Chuu, is a nationally ranked tennis team and major threat to middle schools competing for the National Championship title. Located in the Kanagawa Prefecture, they've won the National title for two years straight. They take pride in straight wins and even keeping to this in game counts.
Here is a compiled list of Rikkai portrayers throughout the musical.
Yukimura Seiichi
The feminine-looking "Child of God" Seiichi Yukimura (幸村 精市 Yukimura Seiichi) is the captain of Rikkai, which makes him one of the Three Demons of the team; the other big three being Sanada Genichirou and Yanagi Renji. He is absent from the Kanto tournament due to an unknown sickness, but he recovers in time for the Nationals.
Sanada Genichirou
The vice-captain of Rikkai and one of the Three Demons of the team. He's visibly more threatening than Yukimura and mercilessly punishes anyone who breaks their tennis team's laws. Genichirou Sanada's (真田 弦一郎 Sanada Gen'ichirō) tennis style revolves around the elements, notably his use of FuuRinKazan and FuuRinKazanRai in the Nationals tournament.
Yanagi Renji
The last of the Three Demons of Rikkai, Renji Yanagi's (柳 蓮二 Yanagi Renji) data-tennis is skilled enough to even predict what someone would say.  He's a childhood friend of Inui Sadaharu and is credited to have provided him the basics of data-tennis.
Niou Masaharu
Nicknamed the 'Trickster of the Court', he specializes in mimicking moves by previous opponents or players. Masaharu Niou's (仁王 雅治 Niō Masaharu) a bit standoffish when communicating with people, but appears close with Rikkai member, Yagyuu Hiroshi.
Yagyuu Hiroshi
The 'Gentleman' of Rikkai, his signature tennis move is called 'Laser Beam', which is a return that's calculated to have a very high speed. Additionally, Hiroshi Yagyuu's (柳生 比呂士 Yagyuu Hiroshi) one of the only players that seems to tolerate Niou's mischief.
Marui Bunta
Bunta Marui (丸井 ブン太 Marui Bunta) is a third-year Rikkai member who specializes in volleying. He has several volley skills that require high technique and awe those around him. He's frequently seen chewing and blowing bubblegum.
Jackal Kuwahara
Usually assigned to play doubles, Kuwahara Jackal (ジャッカル桑原 Jakkaru Kuwahara) is nicknamed the 'Iron Wall' due to his specialization in doubles defense. His tan appearance comes from his mother, who was Brazilian, while his father is Japanese.
Kirihara Akaya
An aggressive second-year that goes into 'Devil Mode' when agitated. When in Devil Mode, Akaya Kirihara (切原 赤也 Kirihara Akaya) develops immense strength in exchange for his stamina.
Ad blocker interference detected!
Wikia is a free-to-use site that makes money from advertising. We have a modified experience for viewers using ad blockers

Wikia is not accessible if you've made further modifications. Remove the custom ad blocker rule(s) and the page will load as expected.