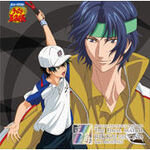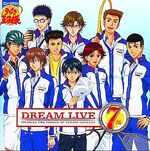 'Rivals, Atobe' (ライバルズ・跡部) features appearances from Rivals along with portrayers of Atobe Keigo. Bits of the song, 'Rivals' along with Koori no Sekai appear in the song. 'Rivals, Atobe' is seen in:
Sono seijaku kara nigedase

otakebi agete uchiyabure

Sono tsumetasa wa shi ni hitoshii

chi no nukumori wo torimodoshite saiseishiro


" Teme no shikaku wa maru miedaze!" 

" Darn it! (Nyarou)"

" Mae ni deta-" 


" Houra, koore!" 


"Kuso- hanou dekinai!"


Kono osoroshisa wo nukedase

Heisokukan wo buchiuabure

Subete no keshiki wo POSITIVE ni

Teme- no netsu wo torimodoshite saiseishiro


" Kaeshita!?" 


" Ha ha ha! Iizo chibi!" 

" Madamada seigaku wa makeru wake ni ha ikanai karane" 


" Ima, seigakutte itta yona?"

" Ryoma-kun!!" 


Saa mou ichido

Hi wo fuku BLIZZARD

Koori no sekai uchikudake!


" Ba-ka, itsu made mo choushi ni notten ja nee yo!!" 


" Hametsu he no Rondo!"

「はあああああ!!」

「おい、いきなるかよ…」

「ほら、ぐずぐずしてる暇はねーぞ」


「そうだ。それでいい」


その静寂から逃げ出せ

雄叫び上げて打ち破れ

その冷たさは死に等しい

血の温もりを取り戻して再生しろ


「テメーの死角は丸見えだぜ」

「Darn it! (にゃろう)」

「前に出た!?」


「ほうら 凍れ」


この恐ろしさを抜け出せ

閉塞感をぶち破れ

全ての景色をポジティブに

テメーの熱を取り戻して再生しろ


「返したっ!?」


「ハーっハッハッ!いいぞチビ!」

「まだまだ青学は負ける訳にはいかないからね」


「今、青学って言ったよな!?」

「リョーマくん!!」


さあ もう一度

火を吹くブリザード

氷の世界 打ち砕け!


「バーカ、いつまでも調子に乗ってんじゃねーよ!!」


「破滅のロンド!!」

Escape from that silence.

Raise your war cry to break it.

That cold is like death.

Restore the warmth of your blood and get back to life.


"I can see all your blind spots!"

"Darn it!"

"He came to the net!"


"Freeze!"


"Damn, I can't react."


Escape from this terror.

Break your sense of despair.

Look at all sceneries POSITIVELY

Restore your passion and get back to life.


"He returned it!"


"Well done, chibi!"


"Seigaku hasn't lost yet!"


"Did he say 'Seigaku' just now?"

"Ryoma-kun!"


Alright, once more time.

A fire-breathing BLIZZARD

A world of ice, break it down!


"Idiot, how long will you keep fooling around?"


"Rondo of Destruction!" 

Source
Ad blocker interference detected!
Wikia is a free-to-use site that makes money from advertising. We have a modified experience for viewers using ad blockers

Wikia is not accessible if you've made further modifications. Remove the custom ad blocker rule(s) and the page will load as expected.