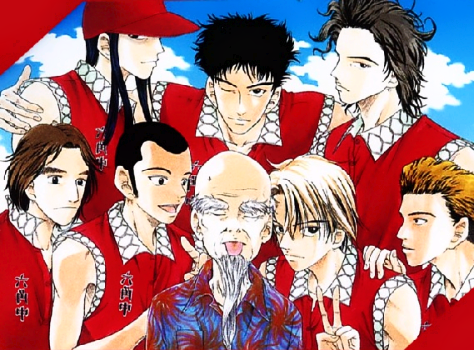 The Rokkaku tennis team (市立六角中学校) is located in the Chiba Prefecture and is the fifth major school Seigaku  goes against. They appear to be just as goofy and aloof as Shitenhoji, but they also value full-power matches. Each Rokkaku member plays with a customized racket specifically crafted to suit their abilities.

This is a compiled, visual list of Rokkaku players as well as the actors that portrayed them.
Aoi Kentarou
Kentarou Aoi (葵 剣太郎 Aoi Kentarō) is the first-year captain of Rokkaku. He's deeply passionate about finding a girlfriend, and due to that obsession he's extremely pompous during his tennis matches. Interestingly, in the anime he's voiced by Toyonaga Toshiyuki.
Saeki Kojirou
Kojirou Saeki (佐伯虎次郎 Saeki Kojirō) is the vice-captain for Rokkaku. He's a naturally talented tennis player with above-average eyesight like Seigaku's Kikumaru Eiji and Yamabuki's Sengoku Kiyosumi. Additionally, he's a childhood friend of Fuji Shusuke.
Amane Hikaru
Hikaru Amane (天根ヒカル Amane Hikaru) is the only second-year regular of Rokkaku's tennis team. Though he's usually tagged with Kurobane for doubles, he's an excellent singles player as well; at one point he single-handedly defeated all the non-regular members of Hyotei's tennis club. Outside of court he has a tendency to create puns to the dismay of anyone in vicinity.
Kurobane Harukaze
Hazukaze Kurobane (黒羽 春風 Kurobane Harukaze) is usually a doubles partner with second-year Amane Hikaru. If the occasion rises in which Amane spurts a pun, Kurobane's usually present to kick him for doing so.
Kisarazu Ryo
Ryo Kisarazu (木更津 亮 Kisarazu Ryō) is the older twin brother of St. Rudolph's Kisarazu Atsushi. Both twins initially had long hair like Ryo does now, but because St. Rudolph's Mizuki Hajime got frustrated from his inability to tell the twins apart, he orders Atsushi to cut his hair and wear a red headband.
Itsuki Marehiko
Marehiko Itsuki (樹 希彦 Itsuki Marehiko) is the most animalistic player on the team. He's constantly curious about anything and everything, and has a tendency to make sounds similar to a train whistle, though the source of this behavior is unknown as of yet.
Shudo Satoshi
Satoshi Shudo (首藤聪 Shudo Satoshi) is the poison taster of Rokkaku. He doesn't appear until 3rd season.
Ad blocker interference detected!
Wikia is a free-to-use site that makes money from advertising. We have a modified experience for viewers using ad blockers

Wikia is not accessible if you've made further modifications. Remove the custom ad blocker rule(s) and the page will load as expected.