Sakamoto Shogo

Now

-

TeniMyu

Information
Japanese Name
阪本奨悟 (さかもと しょうご)
Romaji
Sakamoto Shōgo
Born In
Nishinomiya, Hyogo Prefecture, Japan
Birthday
June 13, 1993
Age
24
Character
Echizen Ryoma
Generation
Seigaku 4th
Portrayers
Previous
Sakurada Dori
Next
Takahashi Ryuki
Shōgo Sakamoto (阪本 奨悟 Sakamoto Shōgo, born June 13, 1993 in Hyogo Prefecture) is a Japanese actor, model, singer, and songwriter.
He is best known for his role as the main protagonist Ryoma Echizen of the fourth generation Seigaku cast in The Prince of Tennis musical series, TeniMyu. Notably, he also plays the role of Ciel Phantomhive in Kuroshitsuji The Musical: That Butler, Friendship.
Since the end of TeniMyu, he's acted in various television series while headed by AMUSE Inc., but had chosen to end his entertainment career in 2011 to further his studies.
His comeback came on June 4, 2013 when a video of Sakamoto performing a song titled 'NEVER' appeared on a music site 'Music-Stargate.com'. Still agency-less since 2011, he announced via Twitter his official website and plans to release his second mini-album titled 「大事なこと」 on September 13, 2013.
TeniMyu
Theatre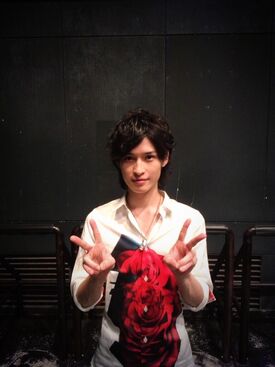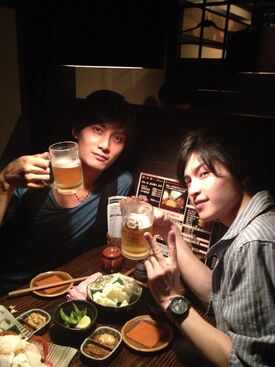 Kuroshitsuji The Musical as Ciel Phantomhive (2009)
BLACK PEARL(2010年4月7日-4月11日、アミューズ)-島村勇太 役
Filmography
TV
Gou ~Himetachi no Sengoku~ (NHK / 2011) - Rikimaru Mori
Hammer Session! (TBS / 2010)

Sunao ni Narenakute as Matsushima Kenta (Fuji TV/ 2010)

Hard To Say I Love You | Sunao ni Narenakute (Fuji TV / 2010) - Kenta Matsushima
Aibou: Season 8 (TV Asahi / 2009-2010) - Ep.6

O Banzai as Hanazono Momotaro (TBS/ 2007)

Koisuru Nichiyobi 3 as Himura Koki (TBS/BS-i/ 2007)

Kakure Karakuri (TBS/ 2006)

Jyoou no Kyoushitsu SP (NTV/ 2006)
Movies
Discography
CDs
FIRST MINI ALBUM「THIS IS ME」(2013年4月3日)
SECOND MINI ALBUM「大事なこと」
DVDs
Memo・Real<メモ・リアル>DVDシリーズ第一弾阪本奨悟「ボクのプレゼント」《前編》(2009年6月26日、マーベラスエンターテイメント)
Memo・Real<メモ・リアル>DVDシリーズ第一弾阪本奨悟「キミにプレゼント」《後編》(2009年7月24日、マーベラスエンターテイメント)
DVD「THE GAME~Boy's Film Show~」(2009年、アミューズ)
DVD「BLACK PEARL」 (2010年8月、アミューズ)
DVD「素直になれなくて」 (2010年9月22日、アミューズ)
DVD「THE GAME ~Boy's Film Show~2010 (2010年12月、アミューズ)
DVD「ハンマーセッション!」 (2011年1月28日、メディアファクトリー)
DVD「スイッチを押すとき」 (2012年5月25日、アミューズ)
Websites
Ad blocker interference detected!
Wikia is a free-to-use site that makes money from advertising. We have a modified experience for viewers using ad blockers

Wikia is not accessible if you've made further modifications. Remove the custom ad blocker rule(s) and the page will load as expected.