Saki Masato

Now

-

TeniMyu

Information
Japanese Name
碕 理人 (サキ マサト)
Romaji
Saki Masato
Born In
Kyoto Prefecture, Japan
Birthday
March 1, 1991
Age
26
Character
Oshitari Kenya
Generation
Shitenhoji 2nd
Portrayers
Previous
Mizuta Kouki
Masato Saki (碕 理人 Saki Masato), born on March 1, 1991, is a Japanese actor from the Kyoto Prefecture of Japan. He's headed by Bamboo Management.
In TeniMyu he plays Oshitari Kenya as a part of Shitenhoji 2nd, the second season Shitenhoji cast.
TeniMyu
Theater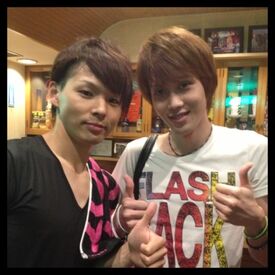 骨髄移植推進キャンペーンミュージカル「明日への扉」ダンサー役
東京ダンス&アクターズ専門学校 中間公演「月の教室」哲也役
東京ダンス&アクターズ専門学校 進級公演「ハロー・グッドバイ」
東京ダンス&アクターズ専門学校 中間公演「ゴジラ」ゴジラ役
東京ダンス&アクターズ専門学校 卒業公演「ステージ・ドア」サム・へスティング役
「in the blue」松岡役 (SPACE107) 2011年8月 
「オレンジ 命の奇跡」ライブハウス店員役他 (銀座 博品館劇場) 2012年2月 
「プール・サイド・ストーリー」中嶋一平役 (明石スタジオ) 2012年7月 
liberalfamily第三回公演「スタンド・byme」主演 男役(スタジオtwl) 2012年10月 
「眠れぬ町の王子様」仁役(全労済ホール/スペース・ゼロ) 2012年11月 
~朗読☆男子~ 春の朗読週間「情熱の在処」新堀瑠都役 (笹塚ファクトリー) 2013年4月 
「眠れぬ町の王子様~dreams like bubbles of champagne~」逢坂仁役(シアターサンモール) 2013年8月 
Filmography
TV
「ミュージックステーションスペシャル」大塚愛 バックダンサー
「まめ知識ッス~私がドラマチックにしてみました~」第6話 (BeeTV) 2011年12月 
ロンドンハーツ3時間SP ドッキリ企画「リフティング・マイ・ドリーム」清家役 (テレビ朝日) 2013年3月 
「神様のボート」楽器店店員役(NHKBS) 2013年3月 
Movies
Websites
Ad blocker interference detected!
Wikia is a free-to-use site that makes money from advertising. We have a modified experience for viewers using ad blockers

Wikia is not accessible if you've made further modifications. Remove the custom ad blocker rule(s) and the page will load as expected.