Saotome Joji

Now

-

TeniMyu

Information
Japanese Name
早乙女 じょうじ(さおとめ じょうじ)
Romaji
Saotome Jōji
Born In
Fukushima Prefecture, Japan
Birthday
December 8, 1986
Age
30
Character
Minami Kentarou
Generation
Yamabuki 2nd
Portrayers
Previous
Yazaki Hiroshi
Joji Saotome (早乙女じょうじ Saotome Jōji), born on December 8, 1986 is a Japanese actor from the Fukushima Prefecture of Japan. He's headed by Ena Entertainment.
In TeniMyu he played the second-generation Minami Kentarou as a part of Yamabuki 2nd. The production was Saotome's theater debut.
TeniMyu
Theater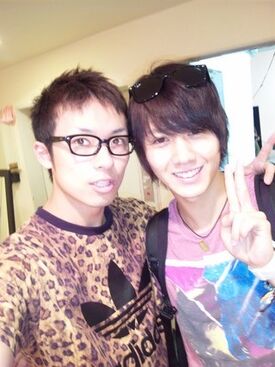 フライング・パンケーキ(2012年) 主演 - Jr (村主 空)役
VISUALIVE『ペルソナ4』(2012年) - 長瀬大輔 役
男子ing!!(2012年)- ツヨシ 役
Grimm de こたつ(2012年)第3話「怖がる事を習いに出かけた男の話」
FRAG -新撰組Bloodsucker Behind-(2012年)- 山崎 烝 役
舞台 逆境ナイン(2012年)-日替わりゲスト
ラッキィ池田プレゼンツ『おれたちダンゴムシ』旗揚げPRE公演 Volume.0(2012年)
ポチッとな。-Switching On Summer-(2012年)
タイツの花道(覇道編)(2012年)
Filmography
TV
Movies
Websites
Ad blocker interference detected!
Wikia is a free-to-use site that makes money from advertising. We have a modified experience for viewers using ad blockers

Wikia is not accessible if you've made further modifications. Remove the custom ad blocker rule(s) and the page will load as expected.