Hisanori Sato, also spelled as Hisanori Satou (佐藤永典 Satō Hisanori) is a Japanese actor born on February 14, 1990 in Saitama, Japan. He's headed by Stardust Promotion.
In TeniMyu, he plays the role of Zaizen Hikaru as a part of Shitenhoji A. After Kawasumi Bishin's retraction from his role after the Treasure Match musicals, he substitutes in for Shitenhoji B as well.
After his graduation in Dream Live 7th, Sato's participated in various musicals and theatrical performances.
And additionally to his role in the stage play of Litchi Hikari Club, he's also Raizou's voice actor in the anime adaptation.
TeniMyu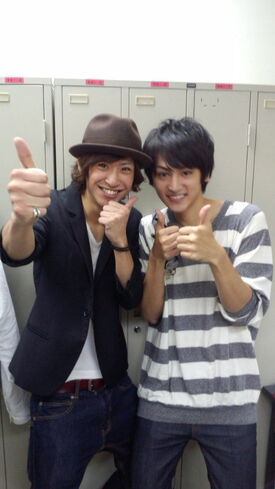 Theater/Filmography
Bokura wa Ano Sora no Shita de (as Teppei Yamamoto; 2009)
Boukensha Tachi (as Bobo; 2009)
Magdala na Maria (as Cecil; 2009)
Boukensha Tachi Saien (as Bobo; 2010)
Light Novel no Tadashii Kakikata (as Atae Yakumo; 2010)
Tsuki to Uso to Satsujin (as Hanashima; 2010)
Kimi he no Melody (as Kinoshita Tokiya; 2010)
Magdala na Maria (as Cecil; 2010)
Ike! Danshi Koko Engekibu (as Komori; 2011)
Shounen Tanteidan (as Kobayashi Yoshio; 2011)
Koisuru Watashi no Bekari (as Takagi Joutarou; 2011)
Ousama Game (as Naoya Hashimoto; 2011)
Romeo to Juliet no Hamlet (as Romeo and Hamlet; 2012)
Highschool Uta Gekidan Otoko Gumi (as Ryouta Hattori; 2012)
Gachiban TRIBAL (as Kawasaki Kokoroai; 2012)
Kamen Rider Wizard (as Takagi Eisaku; 2012)
Straight Rock Play 4STRIKE (as AKI; 2012)
Party wa Sentou kara hajimaru (as Tsukino; 2012)
Litchi Hikari Club Stage Play (as Raizou Ishihashi; 2012)
100-Sai no Shounen to 12-tsu no Tegami (as Oskar; 2012)
3150 Man Byuu to, Sukoshi (as Masahiko, Watanabe and a policeman 2013)
Sayonara, Kinoko (2013)
Kawasaki Gulliver (as Shutsuen; 2013)
Gachiban Supremacy 2 (as Kawasaki Kokoroai; 2013)
Hikinzoru no Yoru - Nonmental Night (2013)
Rock☆Opera: Psychedelic Pain (as Reiji; 2015)
Websites