Ryuji Satou (佐藤 流司 Satō Ryūji), born on January 17, 1995 in the Miyagi Prefecture of Japan, is a Japanese actor. He's associated with the Himawari Theater Group.
In TeniMyu he plays the character Zaizen Hikaru as a part of Shitenhoji 2nd, the second season Shitenhoji cast.
TeniMyu
Theater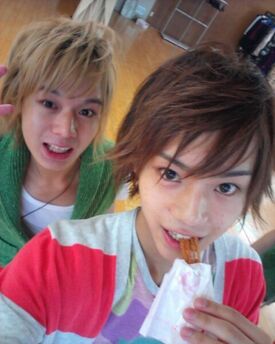 ミュージカル『忍たま乱太郎~第4弾・最恐計画を暴き出せ』(2013年1月9日-20日、サンシャイン劇場)- 田村三木ヱ門 役
『プレゼント◆5』(2013年4月、シアターサンモール)- 主演 大和京介/ 夜魔都 役
『合唱ブラボー!~ブラボー大作戦~』(2013年6月9日、CBGKシブゲキ‼)- 『プレゼント◆5』の大和京介としてゲスト出演
ミュージカル『忍たま乱太郎~第4弾再演・最恐計画を暴き出せ』(2013年6月、東京ドームシティシアターGロッソ) - 田村三木ヱ門 役
『プレゼント◆5 side:三日月』 (2013年8月7日-11日、 青山円形劇場)- 大和京介 役
『プレゼント◆5 -満月にリボンをかけて-』(2013年10月30日-11月10日、東京 CBGKシブゲキ!!/ 11月16日・17日、愛知 テレピアホール)- 大和京介 役(※4月上演『プレゼント◆5』、8月上演『プレゼント◆5 side:三日月』の2作品の再演。日替わりで上演予定。)
Filmography
TV
仮面ライダーフォーゼ(2011年10月16日・23日、テレビ朝日)第7,8話 - 佐竹輝彦/ ハウンド・ゾディアーツ(声) 役
Movies
仮面ライダーフォーゼ THE MOVIE みんなで宇宙キターッ!(2012年8月公開)- 佐竹輝彦 役(友情出演)
Websites
Ad blocker interference detected!
Wikia is a free-to-use site that makes money from advertising. We have a modified experience for viewers using ad blockers

Wikia is not accessible if you've made further modifications. Remove the custom ad blocker rule(s) and the page will load as expected.