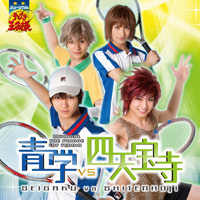 This article is a list of the songs from the musical Seigaku vs. Shitenhoji (ミュージカル『テニスの王子様』 青学vs四天宝寺).
The CD was released on May 28, 2014.
「Let's get it on together」
『GO GO FUJI!GO SHIRAISHI!』
『譲れないプライオリティ~One More Step』(全員)
『百錬自得の極みVS才気煥発の極み』(手塚・千歳)
『天衣無縫の極みに一番近い男』(跡部・橘・亜久津)
Sources
Ad blocker interference detected!
Wikia is a free-to-use site that makes money from advertising. We have a modified experience for viewers using ad blockers

Wikia is not accessible if you've made further modifications. Remove the custom ad blocker rule(s) and the page will load as expected.