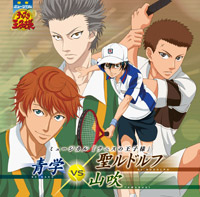 This article concerns the soundtrack to Seigaku vs. St. Rudolph & Yamabuki.
The CD was released on July 13, 2011.
Depend on me|充電完了 (大石・菊丸) (第一幕)
シナリオをぶち壊せ! (青学・柳澤・木更津) (第一幕)
HAND IN HAND|マリオネット (不二・裕太・観月) (第一幕)
マリオネット (リプライズ) (観月) (第一幕)
行くぜ!|100パーセントの心 (青学・聖ルドルフ・山吹) (第二幕)
24/365 (リプライズ) (全員) (第二幕)
Jumping up! High touch! (全員) (第二幕)
Sources
Ad blocker interference detected!
Wikia is a free-to-use site that makes money from advertising. We have a modified experience for viewers using ad blockers

Wikia is not accessible if you've made further modifications. Remove the custom ad blocker rule(s) and the page will load as expected.