Seiya

Now

-

TeniMyu

Information
Japanese Name
聖也(せいや)
Romaji
Seiya
Born In
Tokyo, Japan
Birthday
October 6, 1993
Age
23
Character
Sengoku Kiyosumi
Generation
Yamabuki 2nd
Portrayers
Previous
Wada Masato
Seiya (聖也 Seiya), born on October 6, 1993, is a Japanese actor from Tokyo, Japan. He's headed by LesPros Entertainment.
Other than roles in films and TV, Seiya's focus is on theatrical performances. Notably, he was in the stage play BASARA playing the role of Hayato and in 2013 he was casted in the fourth volume of the Tumbling stage series (Tumbling Vol. 4).
In TeniMyu he plays the role of Sengoku Kiyosumi as a part of the second-generation Yamabuki cast, the first for the second season of the productions.
TeniMyu
Theater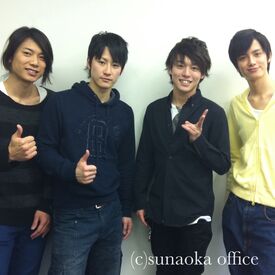 新撰組異聞 PEACE MAKER再炎(2012年)市村鉄之助役
舞台 神様の観覧車(2012年)スノーマン 役
舞台BASARA(2012年)ハヤト 役
魔劇「今日から(マ)王 ! 」(2013年)渋谷有利役
タンブリング vol.4(2013年)
Filmography
TV
好好!キョンシーガール〜東京電視台戦記〜 第4話(2012年11月2日、テレビ東京)小笠原 役
Movies
麒麟の翼 〜劇場版・新参者〜(2012年1月28日公開、東宝)黒沢翔太 役
Websites
Ad blocker interference detected!
Wikia is a free-to-use site that makes money from advertising. We have a modified experience for viewers using ad blockers

Wikia is not accessible if you've made further modifications. Remove the custom ad blocker rule(s) and the page will load as expected.