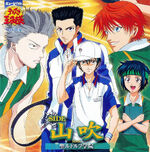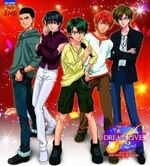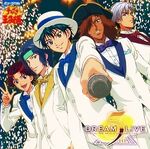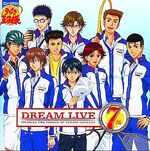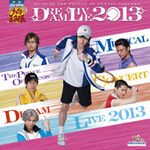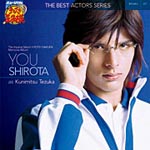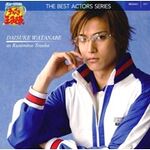 At first, 'Semero, Tsuyoku Nare!' (攻めろ、強くなれ! Semero, tsuyokunare!) was performed only by Seigaku, St. Rudolph, and Yamabuki casts, but since that performance it's been performed by various casts and actors. The English translation of the song is 'Attack, become Strong!'.
Shirota Yuu, the second-generation Tezuka Kunimitsu, sings it in the Best Actors Series 002 as well as Best Actors Series 011, which features the fourth-generation Tezuka Kunimitsu, Watanabe Daisuke.
It's performed in:
Dare ni datte hitotsu ya futatsu jakuten wa aru
Dakedo sore wo kabauna


Semero tsuyoku nare

Donna shiai ni datte ichido ya nido PINCH wa kuru

Dakedo kesshite nigeruna

Semero mae wo muke


Yararetara bai no chikara wo tsukero

Kuyahisa uketomete ookiku nare

Yari kaesu tame ni jibun wo kaero

Ochikonde iru himanado nai

Semero tsuyoku nare


Itami kanji ha wo kuishibari taeru no wa ii

Shikashi sore wo miseruna

Semero me wo hirake

Haibokushi sou ni nari seppa tsumaru koto mo aru

Shikashi senaka wo mukero na

Semero zenshin da

Semero tsuyoku nare

Semero tsuyoku nare!

誰にだって一つや二つ 弱点はある
だけどそれを庇うな


攻もろ 強くなれ

どんな試合にだって 一度や二度ピンチは来る

だけど決して逃げるな

攻めろ 前を向け


やられたら倍の力を付けろ

くやしさ受け止めて 大きくなれ

やり返すために自分を変えろ

落ち込んでいる暇などない

攻めろ 強くなれ


痛み感じ歯を食いしばり 耐えるのはいい

しかしそれを見せるな

攻めろ 目を開け

敗北しそうになり切羽詰まる事もある

しかし背中を向けろな

攻めろ 前進だ

攻めろ 強くなれ 攻めろ 強くなれ

Everyone has one or two weak points
but don't hide them


Attack, become strong

In every match there will be one or two pinches

but never run away

Attack, face forward


If you fail, put in twice the effort

If you regret, become stronger

for the sake of a counter attack, change yourself

There's no time to feel down

Attack, become strong


Clench you teeth together when you feel pain

enduring it is good

but don't show it

Attack, open you eyes

You may be defeated or cornered

but don't turn back

Attack, go forward

Attack, become strong

Attack, become strong!

Sources
Ad blocker interference detected!
Wikia is a free-to-use site that makes money from advertising. We have a modified experience for viewers using ad blockers

Wikia is not accessible if you've made further modifications. Remove the custom ad blocker rule(s) and the page will load as expected.