Yusuke Seto (瀬戸祐介 Seto Yūsuke), born on September 13, 1985 in the Kanagawa Prefecture of Japan, is a Japanese actor.
After Date Koji's departure from TeniMyu, Seto Yusuke replaced him and served his role as Ootori Choutarou in both Hyotei A and B: the first Hyotei casts of the first season of the productions. TeniMyu was Seto's professional theater debut.
He's currently headed by Age Co, but as of June 1, 2013, he will be transferred out of the company.
TeniMyu
Theater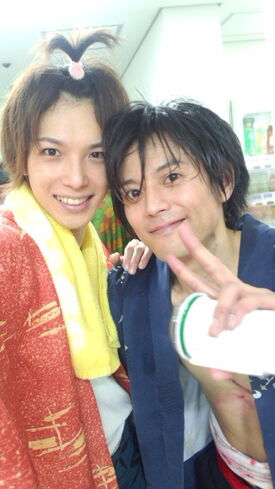 MEN&MAN 〜男たちの想い〜 SADAME ANOTHER LOVE STORY(佐藤ケンジ)
Reading Cinema #1 -THE BUTTERFLY EFFECT Another Story Ⅰ<幸福の王子>
「マーダーファクトリー」(マサヤ)2010年4月
「Good+Will...中野支店」(堀野)2010年8月
「青い月のバラード」(武田航太)2010年10月
「シーズン~巡り合い~」(水嶋恵介)2011年8月 主演
「DREAM」(遠藤彬)2012年7月
Filmography
TV
日本テレビ 『名探偵コナン 工藤新一への挑戦状』
日本テレビ 『有閑倶楽部』
テレビ東京 『しにがみのバラッド』
テレビ東京 『のぞき屋』
テレビ朝日 『音女』
WOWOW『パーフェクト・ブルー』(山瀬浩)
テレビ朝日 『土曜ワイド劇場・内田康夫サスペンス・福原警部2』(永井博之)
TBS 『ハンマーセッション!』第7話
WOWOW『横山秀夫サスペンス 締め出し』
CX『所轄刑事6』
Movies
『ブラブラバンバン』草野陽花監督
『僕らの愛の奏で』(晃)草野陽花監督
『ガチンコ 疾走上等』(山口鉄)広瀬陽監督
『緑~enisi~』
Websites
Ad blocker interference detected!
Wikia is a free-to-use site that makes money from advertising. We have a modified experience for viewers using ad blockers

Wikia is not accessible if you've made further modifications. Remove the custom ad blocker rule(s) and the page will load as expected.