Shinoda Mitsuyoshi

Now

-

TeniMyu

Information
Japanese Name
篠田光亮 (しのだ みつよし)
Romaji
Shinoda Mitsuyoshi
Born In
Kanagawa Prefecture, Japan
Birthday
October 1, 1981
Age
35
Character
Yanagisawa Shinya
Generation
St. Rudolph 1st
Portrayers
Previous
N/A
Next
Jinnai Sho
Mitsuyoshi Shinoda (篠田光亮 Shinoda Mitsuyoshi), born on October 1, 1981, is a Japanese actor. He was previously part of the group 'JackJack'. Shinoda's currently headed by Sun Music Corporation.
In TeniMyu he held the role of Yanagisawa Shinya as a part of the first-generation St. Rudolph cast. Additionally, he played the role of Sasabe in the series' live-action movie adaption, The Prince of Tennis: The Movie.
TeniMyu
Theater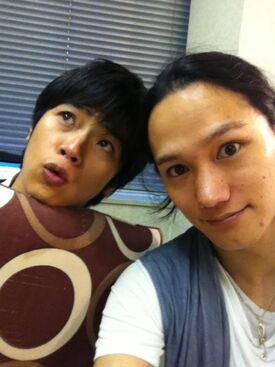 Getten
Soldier of Fortune
理由なき反抗
アンジェラ Princess of Pirates
bambino(健)
クラブゴールドジパング
森は生きている
bambino+
メモリーズ 
bambino2(デューエ)
苦情の手紙
すけだち
少年陰陽師 <歌絵巻> ―この少年、晴明の後継につき―(神楽如風)
bambino+ in YOKOHAMA(2007年12月)
幕末義侠伝・CHUJI(2008年2月)
bambino 0(ゼロ)(2008年5月)
オサエロ(2008年5月)
THE☆どツボッ!!(2008年6月)
ルドンの黙示(2008年8月)
女信長 (2009年6月)
Z団第8回公演「リバースヒストリカ」(2010年5月)
ゲゲゲの女房(2011年9月-10月)
Filmography
TV
Movies
Websites
Ad blocker interference detected!
Wikia is a free-to-use site that makes money from advertising. We have a modified experience for viewers using ad blockers

Wikia is not accessible if you've made further modifications. Remove the custom ad blocker rule(s) and the page will load as expected.