Hijiri Shinotani (篠谷 聖 Shinotani Hijiri) was casted as the first-generation Higa Chuu's Kai Yuujirou. He debuts in all of Higa Chuu's group performances in TeniMyu.
After his work with TeniMyu, he joined the actor's group NAKED BOYZ which included a short stunt of TV appearances. However this is cut short by his confirmed rape assault in September 2012:

"The police state that Shinotani admitted to the crimes, stating that he was drunk at the time and unable to exercise his better judgement. Shinotani became implicated in the case when he gave the woman his cell phone number and part of his name before leaving the scene of the crime, saying that he wanted to date the woman." - ANN

Consequently, he left NAKED BOYZ, his blog and fanclub terminated, and in addition TeniMyu products affiliated with Hijiri were removed from reproduction and taken off shelves.
On January 22, 2013, the Tokyo District Court sentenced him to ten years of imprisonment.
TeniMyu
Theatre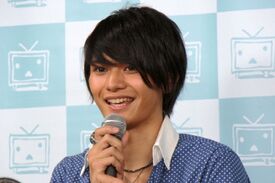 飛行機雲〜DJから特攻隊へ愛を込めて〜(2007年7月、東京芸術劇場小ホール) - 青木剛(特攻隊員・上等飛行兵槽)役
switch(2007年9月、ディファ有明) - 龍玄(少年)役
ミュージカル NEN,GOO!〜お江戸のスターが勢ぞろい(2008年4月9日 - 13日、池袋あうるすぽっと) - 小次郎 役
エブリ リトル シング(2008年7月、紀伊國屋サザンシアター) - 清明 役
SAMURAI 7(2008年11月、新宿コマ劇場) - カツシロウ 役
ジッパー!(2010年10月、池袋あうるすぽっと) - 服部直人 役
花咲ける青少年〜The Budding Beauty in The Oriental Blue Wind〜(2011年2月、草月ホール) - ルマティ 役
花咲ける青少年 ファイナル〜The Blooming Princess〜(2012年1月、サンシャイン劇場)
ROMEO×JULIET〜legend of painful heart(2011年3月、中目黒キンケロシアター)
ニコニコミュージカル ココロ(2011年4月 - 5月、シアター1010)
ESORA(2011年6月、六本木俳優座劇場)
スーパーミュージカル 聖闘士星矢(2011年7月28日 - 31日、スペース・ゼロ) - アンドロメダ瞬 役
八犬伝-疾風異聞録-(2011年9月、原宿クエストホール) - 犬江勘兵衛心 役
MIDNIGHT DREAM〜機械城奇譚〜(2011年11月、中目黒キンケロシアター)
神☆ヴォイス〜Go!Go!Dreamers!!〜(2012年3月、MAKOTOシアター銀座)
Filmography
TV
Wild Strawberry 第4話(2008年4月、テレ朝チャンネル)
Movies
Websites