Shirasu Jin

Now

-

TeniMyu

Information
Japanese Name
白洲 迅(しらす じん)
Romaji
Shirasu Jin
Born In
Aomori Prefecture, Japan
Birthday
November 1, 1992
Age
24
Character
Ootori Choutarou
Generation
Hyotei 2nd
Portrayers
Previous
Seto Yusuke
Jin Shirasu (白州 迅 Shirasu Jin), born on November 1, 1992, is a Japanese actor from Tokyo, Japan. He's headed by Cube Inc.
In TeniMyu he played the role of Ootori Choutarou as a part of Hyotei 2nd, the first Hyotei cast of the second season.
TeniMyu
Theater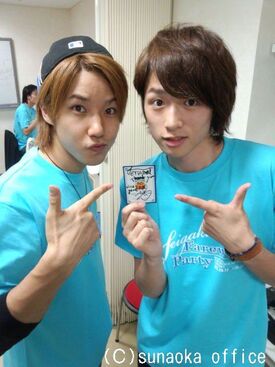 合唱ブラボー!(2012年4月、CBGKシブゲキ!!)ゲスト出演
押忍!!ふんどし部!(2013年2月、CBGKシブゲキ!!)主演・富永一郎太 役
Filmography
TV
Movies
Websites
Ad blocker interference detected!
Wikia is a free-to-use site that makes money from advertising. We have a modified experience for viewers using ad blockers

Wikia is not accessible if you've made further modifications. Remove the custom ad blocker rule(s) and the page will load as expected.