Shison Jun

Now

-

TeniMyu

Information
Japanese Name
志尊 淳 (しそん じゅん)
Romaji
Shison Jun
Born In
Tokyo, Japan
Birthday
March 5, 1995
Age
22
Character
Mukahi Gakuto
Generation
Hyotei 2nd
Portrayers
Previous
Fukuyama Seiji
Jun Shison (志尊 淳 Shison Jun), born on March 5, 1995, is a Japanese actor from Tokyo, Japan. He's headed by Watanabe Entertainment and is part of D2, a subsection of Watanabe Entertainment's major male acting troupe, D-BOYS.
In TeniMyu he plays the character Mukahi Gakuto as a part of Hyotei 2nd.
TeniMyu
Theater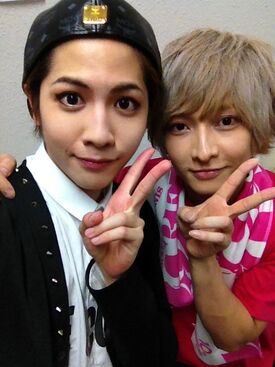 タンブリング vol.3(2012年8月 - 9月、東京国際フォーラムホールC ほか)- 土橋晃 役
Dステ12th「TRUMP」(2013年1月 - 2月、サンシャイン劇場/ABCホール) - ラファエロ・デリコ/アンジェリコ・フラ 役
Filmography
TV
D×TOWN 第3弾「ボクらが恋愛できない理由」(2012年6月、テレビ東京) - 佐々木誠 役
青空の卵(2012年7月 - 9月、BS朝日) - 安藤純 役
Movies
Websites
Ad blocker interference detected!
Wikia is a free-to-use site that makes money from advertising. We have a modified experience for viewers using ad blockers

Wikia is not accessible if you've made further modifications. Remove the custom ad blocker rule(s) and the page will load as expected.