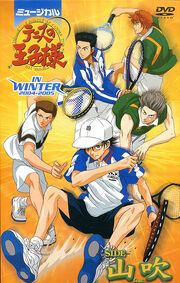 This performance covers the matches between Seigaku and rival school, Yamabuki. Guest starring the first-generation St. Rudolph cast with the exception of Shiozawa Hidemasa.
Debut of the second-generation Seigaku cast.
Side Yamabuki feat. St. Rudolph Gakuen ran from January 8 to January 10, 2005 in Osaka and from January 20 to January 23, 2005 at Tokyo Mielparque Hall.