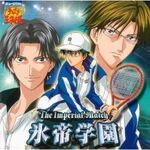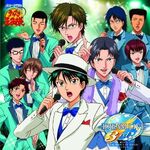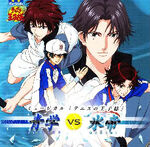 'Sorezore no Omoi' (それぞれの思い) is a short song performed by portrayers of Momoshiro Takeshi.
It's performed in:
Sorezore no Omoi I
Mou iya da konna utsu utsu

Tamaranee konna guzu guzu

Uchi katsu ze aitsu ni mo jibun jishin ni mo

Sou sa maketaran ne-na ore mo

もうイヤだ こんな鬱々
たまらねえ こんな愚図愚図


打ち勝つぜ あいつにも 自分自身にも


そうさ 負けてらんねーな 俺も


Yarinukuze toushi hutsu hutsu

Wakiagaru POWER gin gin

Mite iro yo kanpeki na waza o minitsukeru

Sou sa mezase NUMBER ONE katsu ze!


Yudan sezu ni ikou oretachi wa mada mada

Katsu ka makeruka wa tatakau mono no kokoro ga keshidai


Arata na kessoku arata na kizuna

Teni te wo kasanete mugen no POWER umi dashite yukou*


(Written as "ikou" in the Japanese lyrics, but pronounced "yukou" in song)

やリ抜くぜ 闘志フツフツ
湧き上がる パワーギンギン


見ていろよ 完璧は 技を身に付ける


そうさ 目指せナンバー1 勝つぜ!


油断せずに行こう 俺達はまだまだ

勝つかまけるかは 戦う者の心がけ次第


新たな結束 新たな絆

手に手を重ねて 無限のパワー 生み出していこう

Sources
Ad blocker interference detected!
Wikia is a free-to-use site that makes money from advertising. We have a modified experience for viewers using ad blockers

Wikia is not accessible if you've made further modifications. Remove the custom ad blocker rule(s) and the page will load as expected.