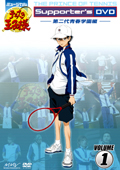 Supporter's DVDs are specially released TeniMyu DVDs that showcase each cast from the
first season
 of TeniMyu providing commentary on their performances. Usually the casts sit in a slight arch reviewing abridged versions of TeniMyu shows. 
Afterwards, interviews of each member are shown of them providing feedback on their experiences with the productions and details of their current professional life.
Bonus features usually include backstage footage from their performances and activities, for example the first-generation Seigaku cast played the 'Seigaku Game' in their Supporter's DVD.
Supporter's DVDs started producing in 2006, and have fifteen editions total.
Supporter's DVDs
Source
Ad blocker interference detected!
Wikia is a free-to-use site that makes money from advertising. We have a modified experience for viewers using ad blockers

Wikia is not accessible if you've made further modifications. Remove the custom ad blocker rule(s) and the page will load as expected.