Takagi Kyoshiro

Now

-

TeniMyu

Information
Japanese Name
高樹 京士郎 (たかぎ きょうしろう)
Romaji
Takagi Kyōshirō
Born In
Tokyo, Japan
Birthday
September 23, 1986
Age
30
Character
Ishida Tetsu
Generation
Fudomine 2nd
Portrayers
Previous
Miyano Mamoru
Next
Nakamura Taro
Kyoshiro Takagi (高樹京士郎 Takagi Kyōshirō), born on September 23, 1986, is a Japanese actor and dancer from Tokyo, Japan.
Since 2008, he's studied classical ballet as well as jazz dancing.
In TeniMyu he plays the second-generation Ishida Tetsu as a part of Fudomine 2nd.
TeniMyu
Theater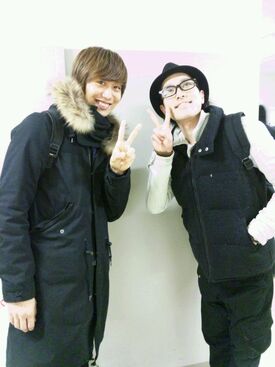 オペラ「ヘンゼルとグレーテル」助演出演 (2009)
ミュージカル「冒険者たち ガンバと15ひきの仲間」出演  <サンシャイン劇場>他 (2010)
「銀河英雄伝説~外伝」ミッタマイヤー・ロイエンタール編出演 <サンシャイン劇場> (2011)
「友情~秋桜のバラード~」英語教師・大場秀男役 出演  <三越劇場/他> (2011)
舞台「裏切りは僕の名前を知っている」出演 <博品館劇場> (2011)
ルドビコ*Vol.8「Little Alice ー少年アリスの時間割ー」出演 <シアターサンモール> (2012)
ビジネスマンミュージカル「WAY OUT」出演 <シアターグリーン> (2012)
「風にゆれる、じっと見てる。」出演 <アサヒアートスクエア> (2012)
Filmography
TV
フジテレビバラエテイー番組「もしも」(執事役) (2009)
Movies
Websites
Ad blocker interference detected!
Wikia is a free-to-use site that makes money from advertising. We have a modified experience for viewers using ad blockers

Wikia is not accessible if you've made further modifications. Remove the custom ad blocker rule(s) and the page will load as expected.