Takagi Shun

Now

-

TeniMyu

Information
Japanese Name
髙木俊 (たかぎしゅん)
Romaji
Takagi Shun
Born In
Ishikawa Prefecture, Japan
Birthday
March 17, 1981
Character
Sakurai Masaya
Generation
Fudomine 1st
Portrayers
Previous
N/A
Next
Takahashi Fumiya
Shun Takagi (高木俊 Takagi Shun), born on March 17, 1981, is a Japanese voice actor and actor.
In TeniMyu he plays the role of Sakurai Masaya in the first season of the productions. He's one of the various actors that plays a minor character to appear in various musicals and Dream Lives throughout the season.
Additionally, he appears in the Prince of Tennis Live Action, The Prince of Tennis: The Movie, as his TeniMyu role.
TeniMyu
Theater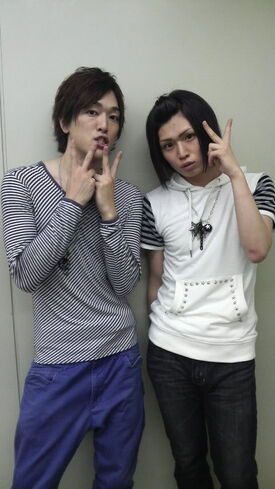 Musical Kuroshitsuji -The Most Beautiful DEATH in The World- Sen no Tamashii to Ochita Shinigami (as Fred Aberline; 2013)
SMILY☆SPIKY 初公演「ダストスパート」
SMILY☆SPIKY 公演「ふたりぼっち」
SMILY☆SPIKY コントライヴ「それかおじゃん」
高木俊一人芝居「オレイロ」シリーズ
鋼鉄三国志歌劇舞台〜深紅の魂よみがえりしとき〜(魏延文長)
演劇集団スプートニク第2回公演「ちょっと行ってきます、宇宙(そら)へ。」
Zero Project 「リズミックタウン」2008冬・再演(カイ)
TWIN-BEATプロデュース 「アロマ」(マスダ役・2009年)
ニコニコミュージカル第7弾「源氏物語」2011年11月16日 - 23日(頭の中将/伊吹、スペース・ゼロ)
新春戦国鍋祭~あんまり近づきすぎると斬られちゃうよ~(池田恒興)
Filmography
TV
Movies
Websites
Ad blocker interference detected!
Wikia is a free-to-use site that makes money from advertising. We have a modified experience for viewers using ad blockers

Wikia is not accessible if you've made further modifications. Remove the custom ad blocker rule(s) and the page will load as expected.