Takahashi Fumiya

Now

-

TeniMyu

Information
Japanese Name
髙橋 郁哉(たかはし ふみや)
Romaji
Takahashi Fumiya
Born In
Matsudo, Chiba Prefecture, Japan
Birthday
December 3, 1993
Age
23
Character
Sakurai Masaya
Generation
Fudomine 2nd
Portrayers
Previous
Takagi Shun
Next
Ryotaro
Fumiya Takahashi (髙橋郁哉 Takahashi Fumiya), born on December 3, 1993, is a Japanese actor from Matsudo, Chiba, Japan. He's affiliated with the Horipro Improvement Academy (HIA).
In TeniMyu he plays the second-generation Sakurai Masaya as a part of Fudomine 2nd.
TeniMyu
Theater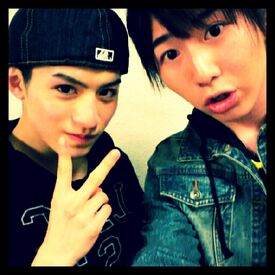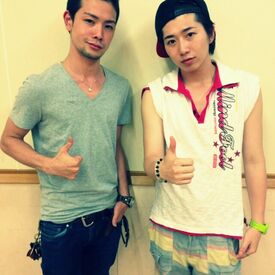 ヘンリー六世3部作(シェイクスピア)(2009年 新国立劇場)※第17回読売演劇大賞 大賞・最優秀作品賞受賞作品第3部ラットランド伯エドムンド 役
『東北地方太平洋沖地震チャリティー公演 ポチッとな。 -Switching On Summer-』 ハセコン役
ミュージカル・ドリームハイ オ・ジュンホ役
コミックスGO☆GO 達川豊役
桃太郎外伝~黄金の夜明け~(2012年10月18日~21日)
舞台ASU(2013年8月8日~11日)楠木飛鳥・グズ役
Filmography
TV Dramas
サラリーマン金太郎(TBS)
こちら本池上署 第5話(TBS)少年 役
花王 愛の劇場 新・天までとどけ 第3話(TBS)正樹 役
リング(フジテレビ)
小児救命(テレビ朝日)
大好き!五つ子5(TBS)荒木和之 役
TV
九死に一生SP〜坊やがガケに!〜(日本テレビ)
天才てれびくん外伝〜宇宙船ソフィア号の冒険〜(2005年8月13日、NHK教育)
Movies
サウスバウンド(2007年)監督 森田芳光 出演 豊川悦司 天海祐希 ほか
風が強く吹いている(2009年)監督 大森寿美男 出演 小出恵介 ほか
青いソラ白い雲(2012年)
Websites
Ad blocker interference detected!
Wikia is a free-to-use site that makes money from advertising. We have a modified experience for viewers using ad blockers

Wikia is not accessible if you've made further modifications. Remove the custom ad blocker rule(s) and the page will load as expected.