Takahashi Rio

Now

-

TeniMyu

Information
Japanese Name
高橋 里央 (たかはし りお)
Romaji
Takahashi Rio
Born In
Kanagawa Prefecture, Japan
Birthday
February 18, 1994
Age
23
Character
Mizuno Katsuo
Generation
Seigaku 5th
Portrayers
Previous
Watanabe Masashi
Next
Ono Mizuki
Rio Takahashi (高橋里央 Takahashi Rio), born on February 18, 1994, is a Japanes actor from the Kanagawa Prefecture of Japan. He's associated with AlphaCore Co., the same agency affiliated with TeniMyu actor Baba Ryoma.
In TeniMyu Takahashi plays the fifth-generation Mizuno Katsuo after Watanabe Masashi's departure from the productions after the end of The Imperial Presence Hyotei Gakuen feat. Higa Chuu.
TeniMyu
Theater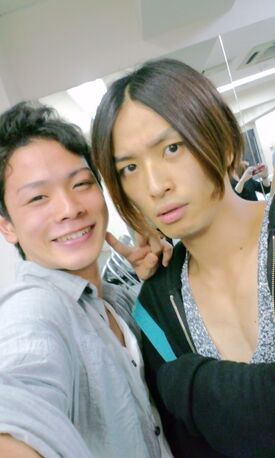 「バイオハザードカフェで朝食を」-ファルコン 役(2013年2月)
「サクラ大戦奏組~雅なるハーモニー~」-暮鏡一 役(2012年9月)
FREE(S)プロデュース公演「第一章 DREAM-dandelion-」(2012年7月)
舞台版「コードギアス反逆のルルーシュ」騒乱 前夜祭(イヴ)-リヴァル・カルデモンド 役(2012年4月)
「さよなら2月」(2011年2月)
「ふしぎ遊戯」-
BIZARRE vol.3「保育士の乱」(2010年4月)-主演
BIZARRE vol.2「ZIPANGパイレーツ」(2010年2月)
Filmography
TV
明日の光をつかめ2 (2011年、東海テレビ) - 春日 役
Movies
リアル鬼ごっこ3(2012年)-ヤスシ 役
club nikora2(2011年)-タクヤ 役
アントキノイノチ(2011年)-山岳部員 役
青い鳥 (2008年) - 生徒会 役
死にぞこないの青 (2008年) - 秋永隆史 役 
Websites
Ad blocker interference detected!
Wikia is a free-to-use site that makes money from advertising. We have a modified experience for viewers using ad blockers

Wikia is not accessible if you've made further modifications. Remove the custom ad blocker rule(s) and the page will load as expected.