Takahashi Ryuki

Now

-

TeniMyu

Information
Japanese Name
高橋龍輝
Romaji
Takahashi Ryūki
Born In
Miyagi Prefecture, Japan
Birthday
March 28, 1993
Age
24
Character
Echizen Ryoma
Generation
Seigaku 5th
Portrayers
Previous
Sakamoto Shogo
Next
Ogoe Yuuki
Ryuki Takahashi (高橋龍輝 Takahashi Ryūki), born on March 28, 1993, was a Japanese actor. He's best known for his role as Ryoma Echizen as part of the 5th cast of TeniMyu as well as playing Utahoshi Kengo in "Kamen Rider Fourze".
He was also active in D-BOYS and was the youngest of the group. He retires as an actor because of health-related problems.
TeniMyu
Theatre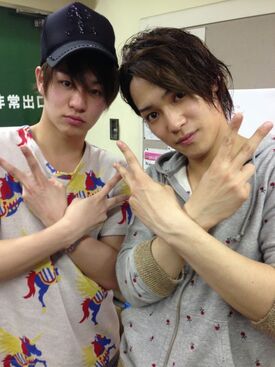 Filmography
TV
Movies
Websites
Ad blocker interference detected!
Wikia is a free-to-use site that makes money from advertising. We have a modified experience for viewers using ad blockers

Wikia is not accessible if you've made further modifications. Remove the custom ad blocker rule(s) and the page will load as expected.