Yuuta Takahashi (高橋優太 Takahashi Yūta), born on May 31, 1984, is a Japanese actor. He's part of the acting troupe called 'NAKED BOYZ' since its creation in August 2010. He's headed by Merry-Go-Round Co.
One of Takashi's notable roles is his portrayal of Suzuki Takeshi as a part of the drama movie series, Takumi-kun, which also featured various TeniMyu alumni such as Hamao Kyosuke , Watanabe Daisuke, Takiguchi Yukihiro, and Hosogai Kei.
In TeniMyu Yuuta played the role of the fourth-generation Seigaku cast's Inui Sadaharu and retained this role up until the group's graduation in Dream Live 6th. TeniMyu was his first affiliation with a major theatrical production.
TeniMyu
Theater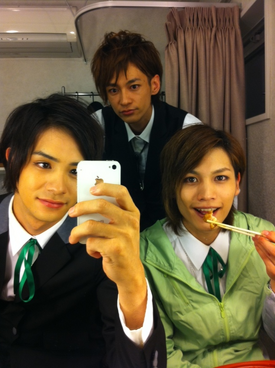 THE LONG KISS★GOOD NIGHT(2008年6月、シアターグリーンBOX in BOX THEATER)
彩られたモノ・クローン(2009年3月、エコー劇場)
金色のコルダ ステラ・ミュージカル(2010年3月/7月 - 8月、天王洲銀河劇場 ほか) - 土浦梁太郎 役
Romeo×Juliet 〜legend of painful heart〜(2010年6月、キンケロ・シアター)
BOMB!(2010年9月、ザ・ポケット)
ニコニコミュージカル ココロ(2011年4月 - 5月、THEATRE1010)
ハイスクール ハイコー!!(2011年11月、小劇場楽園)
THE LONG KISS★GOOD NIGHT 番外編<Snow flake>(2011年12月、シアターグリーンBOX in BOX THEATER)
Three Street(2012年4月、シアター711)
スパイス刑事(2012年5月、シアターグリーンBIG THREE THEATER)
陽はまたのぼりそしてくりかえす(2012年6月、ワーサルシアター)
Filmography
TV
花ざかりの君たちへ〜イケメン♂パラダイス〜 (2007年7月 - 9月、フジテレビ) - 四条春樹 役
花ざかりの君たちへ〜イケメン♂パラダイス〜卒業式&7と1/2話スペシャル (2008年10月12日)
音女 第20話「男性不信のオトメ」(2008年5月8日、テレビ朝日)
Cafe吉祥寺で 第1話(2008年9月29日、テレビ東京)
Movies
同級生 (2008年) - 村井直樹 役
体育館ベイビー (2008年) - 村井直樹 役
タクミくんシリーズ 虹色の硝子 (2009年) - 鈴木健志 役
月と嘘と殺人 (2010年) - 谷口 役
純情 (2010年) - 倉田将成 役
Websites
Ad blocker interference detected!
Wikia is a free-to-use site that makes money from advertising. We have a modified experience for viewers using ad blockers

Wikia is not accessible if you've made further modifications. Remove the custom ad blocker rule(s) and the page will load as expected.