Eiji Takigawa (滝川英治 Takigawa Eiji), born on March 24, 1979 in Osaka, Japan, is a Japanese actor and model. He's headed by Eri Office.
He played the first-generation Seigaku's Tezuka Kunimitsu in all of their shows except for More Than Limit St. Rudolph Gakuen. In replacement Ohkuchi Kengo played the role instead. Later he returns in In Winter 2004-2005 Side Fudomine ~Special Match~ to reprise as well as graduate from his role.
Since his graduation from TeniMyu, he's taken various acting roles in both movies and TV dramas.
TeniMyu
Theater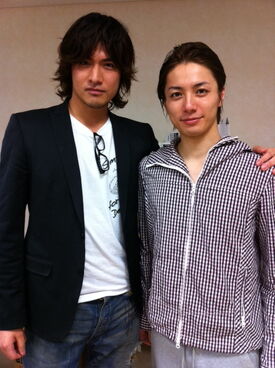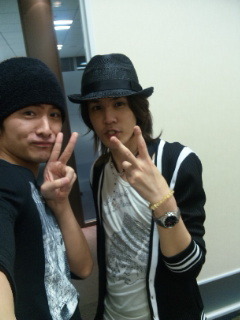 三越劇場
「NY青春物語~アランとバディ~」(2004年) - バディ 役
「ミュージカル シンデレラ」(2009年7月25日 - 8月2日) - 王子 役
Other Performances
新橋演舞場「恋ぶみ屋一葉」(2005年) - 羽生草助 役
博品館劇場「忠臣蔵~水戸黄門外伝・元禄仇討ち裏事情~」(2006年)
『弱虫ペダル』インターハイ篇 The First Result(2013年8月24日-9月1日、東京・サンシャイン劇場/ 2013年9月7日-8日、大阪・シアターBRAVA!)- 福富寿一 役
舞台戦国BASARA - 伊達政宗役(2代目)
Filmography
TV
月曜ドラマスペシャル 「アドベンチャー探偵の事件簿1」(TBS 2000年)
ドラマスペシャル 「天の瞳2」(ANB 2001年)
女と愛とミステリー 「開運!なんでも鑑定団殺人事件」(TX 2001年)
金曜エンタティメント 「ハマの静香は事件がお好き」(CX 2003年)
土曜ワイド劇場 「大阪社会部 ひまダネ記者」(ABC 2003年)
仮面ライダーキバ(EX 2008年) - 力/ドッガ 役
ファ見る!1周年 あゆみの事件簿(ファミリー劇場 2008年) - 百合谷刑事 役
土曜ワイド劇場「温泉(秘)大作戦8」(ABC、2009年12月5日)
俺の空 刑事編 第1話(EX、2011年10月16日) - クラブ店員 役
Movies
Trivia
Takigawa graduated from the law department of Kounan Daigaku (Konan University) at Kobe.
He made his first big break on 2002, as the official icon of the energy drink, Lipovitan D. He graduated as the Lipovitan D icon on 29 March 2007.
He had a rabbit named Q (deceased) and has a dog named Pearl (Yorkshire Terrier).
Takigawa released a DVD called Treasure of Age (and some sites also call it as 'Treasure of Eiji') on 2004, which was produced by Marvelous Entertainment.
He appears in the PV of Kimeru's single TIMELESS. There's also a short movie, TIMELESS ~The Movie.
Takigawa originally auditioned for the role of Inui Sadaharu but got the role of Tezuka Kunimitsu instead.
Websites