Takiguchi Yukihiro

Now

-

TeniMyu

Information
Japanese Name
滝口 幸広(たきぐち・ゆきひろ)
Romaji
Takiguchi Yukihiro
Born In
Chiba Prefecture, Japan
Birthday
May 29, 1985
Age
32
Character
Oishi Shuichiro
Generation
Seigaku 3rd
Portrayers
Previous
Suzuki Hiroki
Next
Toyoda Yuya
Yukihiro Takiguchi (滝口 幸広 Takiguchi Yukihiro), also called Takky by the most of his colleagues, is a Japanese actor born on May 29, 1985 in Chiba prefecture. He's headed by Stardust Promotion.
In TeniMyu, he plays the role of Oishi Shuichiro in the third-generation Seigaku cast. He graduates with the entire cast in Absolute King Rikkai feat. Rokkaku ~ Second Service with the exception of Yanagishita Tomo who stays as an alternate for the fourth-generation Seigaku cast.
He was one of the seven original members of the unit PureBOYS, but he graduated from the group in March 2008.
TeniMyu
Theater/Filmography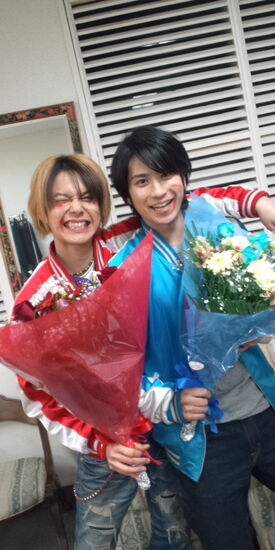 Water Boys 2 (as Toba; 2004)
Kurotokage (2005)
Chakushin Ari (as Honda Tatsuya; 2005)
Mahousentai Majirenja (as Takaki; 2005)
Unfair (as Seita Toru; 2006)
Shokyuu Kyoushitsu (2006)
Water (as Ryouun; 2007)
Koisuru Nichiyoubi 「O Hikkoshi」(as Yoshida Takashi; 2007)
Yoshimoto Director's 100 - Akatsuki no Shi, Dakishimete (2007)
Asakusa Fukumaru Ryokan 2 Series (as Kajiyama Toshiharu; 2007)
PureBOYS 7Cheers! ~ Tobe! Jibun to iu Daichi Kara (as Tsukiura Kouta; 2007)
Oishii Timing (2008)
Tadashi Ouji no Tsukuri Kata (as Soma Fumi; 2008)
Binbou Danshi Bonbimen (as Abe, 2008)
Takumi-kun- Soshite, Harukaze ni Sasayaite (as Akaike Shouzou; 2008)
Tokyo Ghost Trip (as Inui Roku; 2008)
Gokusen 3 Series (as Kunimura; 2008)
Typhoon #14 Monshiro (as Shouta; 2008)
Ani to Boku no Fuufugenka (2009)
Atashi-tachi no Momoiro Nikkai Dai 5-Kai 「Cappuccino ~ Ototo no Tomodachi~」(as Jun; 2009)
Takumi-kun - Niji-iro no Garasu (as Akaike Shouzou; 2009)
Koishite Akuma ~ Vampire Boy ~ (as Vampire; 2009)
Buzzer Beat ~ Gakkeppuchi no Hiro ~ (as Yosano; 2009)
Boukensha-tachi (as Shichirou; 2009)
Ikemen Bank The Movie (2009)
pnish* produce vol. 5 Reverse Historica (2009)
Oretachi wa Tenshi da! No Angel no Luck (as Fujinami Akihiko; 2009)
Koroshiya Syuu ~ Shoot me ~ (2009)
Takumi-kun - Bibou no Detail (as Akaike Shouzou; 2010)
Arienai! (as Yamamura Koichirou; 2010)
Byakkotai The Idol (2010)
Tsuki to Uso to Satsujin (as Okudera Kousuke; 2010)
Boukensha-Tachi Saien (as Shichirou; 2010)
pnish* produce Panic Cafe (2011)
Getsuyou Golden Midorikawa Keibu VS Satsujin Toranpu (as Fujimura Kimihiko; 2011)
Sengoku Danshi (as Date Masamune; 2011)
Takumi-kun - Pure (as Akaike Shouzou; 2011)
Kourin Fight (as Sanada Yukimura; 2011)
Peace Maker - Shinsengumi Sanjou (as Ichimura Tatsunosuke; 2011)
Gangsta (2011)
Letter (2011)
Takumi-kun - Ano, Hareta Aozora (as Akaike Shouzou; 2011)
Oedu nabesai ~ Anmari Hashagi Sugiru to Uta re Chau yo~ (as Terasaka Kichiemon; 2011)
Bokura no Toshoshitsu ~ Minnade dokusho-kai~ (2012)
Bokura no Toshoshitsu (2012)
Highschool Uta Gekidan Otoko Gumi (as Kiryuu Akira; 2012)
Shuuden Baibai (as Takuya; 2013)
Dream Jumbo Takara Bu Ne ~ Kesshite o Togame Kudasaimasu Na~ (as Nurari Hyon; 2013)
Websites
Ad blocker interference detected!
Wikia is a free-to-use site that makes money from advertising. We have a modified experience for viewers using ad blockers

Wikia is not accessible if you've made further modifications. Remove the custom ad blocker rule(s) and the page will load as expected.