Hideya Tawada (多和田秀弥 Tawada Hideya) is a Japanese actor and model from Osaka, Japan. He's headed by TOPCOAT. In 2010 he participated in a FINEBOYS model audition and received a special award from it.
In TeniMyu he plays the seventh-generation Tezuka Kunimitsu, the second for the second season of the productions.
TeniMyu
Theater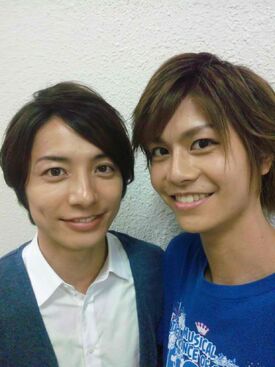 『100年分の声援を』デジマ役 (2011年6月、恵比寿エコー劇場)
『腰抜け男ども、義理と人情は…女が見せてやる!』堤役 (2012年4月、AOYAMA DDD HALL)
Filmography
TV
戦国鍋TV~なんとなく歴史が学べる映像~(2012年6月 - 8月 「戦国鍋ミュージカルOICHI」1・4・5・8話)
Movies
王様とボク(2012年9月22日公開、ユナイテッドエンタテインメント)
Websites
Ad blocker interference detected!
Wikia is a free-to-use site that makes money from advertising. We have a modified experience for viewers using ad blockers

Wikia is not accessible if you've made further modifications. Remove the custom ad blocker rule(s) and the page will load as expected.