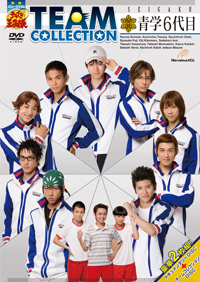 Team Collections are the equivalent to the first season's Supporter DVDs. Both include cast interviews, commentary, backstage footage, and various bonus features of selected second-season TeniMyu casts.
Collections include:
Team Collection Fudomine (Released March 9, 2012)
Team Collection St. Rudolph (Released April 6, 2012)
Team Collection Yamabuki (Released May 11, 2012)
Team Collection Hyotei (Released September 7, 2012)
Team Collection Seigaku 6th (Released March 15, 2013)
Team Collection Rokkaku (Released September 19, 2013)
Team Collection Rikkai (Released October 5, 2013)
Team Collection Higa (Released February 7, 2014)
Team Collection Seigaku 7th (Released April 16, 2015)
Team Collection Shitenhouji (Released May 1, 2015)
Source
Ad blocker interference detected!
Wikia is a free-to-use site that makes money from advertising. We have a modified experience for viewers using ad blockers

Wikia is not accessible if you've made further modifications. Remove the custom ad blocker rule(s) and the page will load as expected.