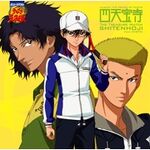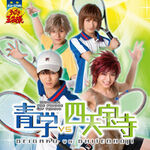 'Ten'imuhou no kiwami ni ichiban chikai otoko' (天衣無縫の極みに一番近い男 Ten'imuhō no kiwami ni ichiban chikai otoko) is seen in:
"Yareyare, Shinjirarenbai ne... "Hyakuren" to "saiki"

wa kyouson dekinmonba omottottai. Jibun ni LIMITER ba

kakete ita jiten de ore wa... Onore no genkaiten ba kimechottan

kamo shirentai! Tsuyoka..... Nante onore ni tsuyoka otokobai!

Tezuka Kunimitsu! Soshite kon otoko... ittai doko made..."


Miro yo ano otoko Kokou ni tatakau hitori no senshi

Miro yo Tezuka Kunimitsu Onore wo koeru souzetsu na sugata wo


Sou da Ano otoko TEAM to iu shukumei o seoi

Sou da Tezuka Kunimitsu Shouri o misueta surudoi manazashi


Dokomade shinka suru no da Tezuka Kunimitsu 

Te ni todokisou da na Ten'imuhou no kiwami ni


Omae no FIGHT wa ore no FIGHT ni tsunagaru

Omae no GUTS wa ore no GUTS o shigeki suru

Yuke Dokomademo

Itsuka wa omae wo kumifuseru

Yare yousha naku

Omae ga dekaku naru hodo Ore wa tokimekuze


Omae wa ten'imuhou no kiwami ni ichiban chikai otoko

「やれやれ、信じられんばいね... 。『百練』と『才気』

は共存出来んもんば思っとったい。自分にリミッター

ば掛けていた時点で俺は...己の限界点ば決めちょった

んかも知れんたい!強か......何て己に強か男ばい!

手塚国光! そしてこん男...いったい何処まで...」


見ろよ あの男 孤高に戦う一人の戦士

見ろよ 手塚国光 己を超える壮絶な姿を


そうだ あの男 チームと言う宿命を背負い

そうだ 手塚国光 勝利を見据えた鋭い眼差し


どこまで進化するのだ 手塚国光

手に届きそうだな 天衣無縫の極みに


お前のファイトは俺のファイトに繋がる

お前のガッツは俺のガッツを刺激する

行け どこまでも

いつかはお前を 組み伏せる

やれ 容赦なく

お前がでかくなるほど 俺はときめくぜ


お前は天衣無縫の極みに一番近い男

Source
Ad blocker interference detected!
Wikia is a free-to-use site that makes money from advertising. We have a modified experience for viewers using ad blockers

Wikia is not accessible if you've made further modifications. Remove the custom ad blocker rule(s) and the page will load as expected.