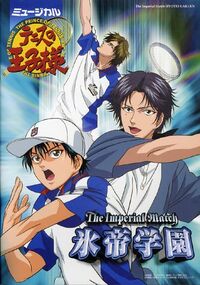 This musical had two separate showings: one in the summer, and one in the winter. The winter showing featured additional appearances from various schools, notably Fudomine's cameo.
Yanagi Kotaro reprised his role as Echizen Ryoma in this performance. This was the second time Yanagi participated in TeniMyu without double-casting, the first being in Musical Tennis no Ouji-sama.
The Imperial Match Hyotei Gakuen is the last plot-related performance performed by the second-generation Seigaku cast.
The summer performance was held in August, 2005 while the Winter performances were held from December 2005 to January 2006.