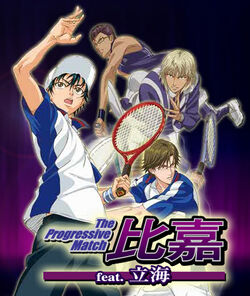 The Progressive Match Higa Chuu feat. Rikkai covers the matches between Seigaku and rival school, Higa Chuu. Guests included Rikkai Daigaku Fuzoku and Saeki Kojirou from Rokkaku. This musical is the first of the musicals to cover the Nationals arc of the story. Debut of the fourth Seigaku cast.
During this show, Yanagishita Tomo (who had stayed as an alternate), and Hirata Yuuichirou (who was casted as the new Kaidoh) took turns playing the role of Kaidoh for different performances. The performance of Tomo's portrayal ended up on the official DVD.
Shinotani Hijiri had been temporarily replaced by Imai Tsunemitsu due to illness but eventually returned for the last few performances.
The musical ran from December 12, 2007 to February 11, 2008