Toyonaga Toshiyuki

Now

-

TeniMyu

Information
Japanese Name
豊永利行
Romaji
Toyonaga Toshiyuki
Born In
Tokyo, Japan
Birthday
April 28, 1984
Age
33
Character
Kato Kachiro
Generation
Seigaku 1st
Seigaku 2nd
Portrayers
Previous
N/A
Next
Mori Yuya
Toshiyuki Toyonaga (豊永利行 Toyonaga Toshiyuki, born April 28, 1984) is a Japanese voice actor, actor and singer. He's headed by Super Eccentric Theater.
In TeniMyu he was casted as the first generation Kachiro Kato and supports the first and second generation Seigaku cast up until his graduation in Dream Live 3rd.
Outside of TeniMyu he's lended his voice to animes such as Durarara!! (Mikado Ryugamine), Katekyo Hitman Reborn! (Chikusa Kakimoto and Shoichi Irie), and Kimi to Boku (Shun Matsuoka).
Notably Toshiyuki is the voice actor of Kentarou Aoi, the first-year captain of Rokkaku in the anime adaption of Prince of Tennis.
TeniMyu
Theater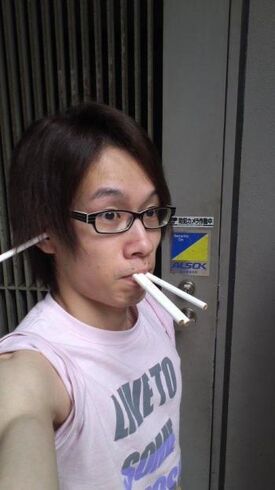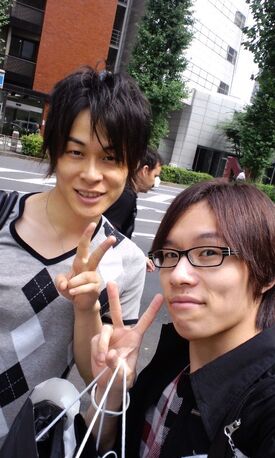 アルゴミュージカル「Sing for You, Sing for Me.」(ルソー)※デビュー作 (1995)
劇団四季ミュージカル「美女と野獣」(チップ) (1995-97)
ザ・ヒーローズ (1999)
オフSET・プロデュース公演「スター誕生物語」 (2001)
理由なき反抗(プレイトー) (2005)
オアシスと砂漠 〜Love on the planet〜(カズ) (2009)
「マグダラなマリア」〜マリアさんの夢は夜とかに開く!魔愚堕裸屋、ついに開店〜(ペーター・グルテン)(2010)
世界のどこにでもある、場所(遠藤 圭太) (2010)
時速246億vol.05「グレイトフルデッド」 (2011)
時速246億vol.A no.721 (2012)
マリア・マグダレーナ来日特別公演「マグダライブ!!」(ペーター・グルテン) (2012)
マリア・マグダレーナ来日公演『マグダラなマ リア』 〜ワインとタンゴと男と女とワイン〜(ペーター・グルテン) (2012)
マリア・マグダレーナ来日特別公演 『マグダライブ!!』 2013(ペーター・グルテン) (2013)
時速246億「No.721」再演 (2013)
Filmography
TV
Movies
Voice Acting Roles
Anime
Video Games
Websites
Ad blocker interference detected!
Wikia is a free-to-use site that makes money from advertising. We have a modified experience for viewers using ad blockers

Wikia is not accessible if you've made further modifications. Remove the custom ad blocker rule(s) and the page will load as expected.