Yusuke Ueda (上田悠介 Ueda Yūsuke), born on April 2, 1989, is a Japanese actor from the Nara Prefecture of Japan. He's headed by Duncan Co.
In TeniMyu he played the role of Tachibana Kippei as a part of Fudomine 2nd.
TeniMyu
Theater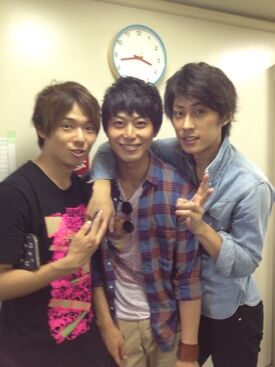 アトリエ・ダンカンプロデュース 鴨川ホルモー(2009年5月-6月、吉祥寺シアター)
演劇集団イヌッコロ vol.3 「ギャング・アワー」(2011年、劇場MOMO)
舞台「こころ」(2011年、青山円形劇場)- K 役
アトリエ・ダンカンプロデュース ミュージカル「ア・ソング・フォー・ユー」(2011年、新国立劇場中ホール 他)
舞台「We Love 兄さん!!~ボクらの兄さん、イケてなくなくない?~」(2012年、ラフォーレミュージアム原宿)- キッカワ 役
舞台「アイスクリームマン」(2012年、TACCS1179)- 吉田 役
ビジュアルボーイ 10周年記念イベント シェイクスピア・朗毒パフォーマンス「ベースボーーール ハムレット!」(2012年、東京タワー タワーホールA1)- マクベス 役
アトリエ・ダンカンプロデュース 青春音楽活劇 「詭弁 走れメロス」(2012年12月、KAAT神奈川芸術劇場/ 2013年1月、銀座博品館劇場/ 2月、大阪サンケイホールブリーゼ)-自転車にこやか整理軍 役
Flying Trip 第7回公演「屋上ワンダーランド」(2013年5月8日-5月12日、東池袋・あうるすぽっと)
Filmography
TV
上地雄輔ひまわり物語(2009年、フジテレビ) - 松坂大輔 役
Movies
Websites
Ad blocker interference detected!
Wikia is a free-to-use site that makes money from advertising. We have a modified experience for viewers using ad blockers

Wikia is not accessible if you've made further modifications. Remove the custom ad blocker rule(s) and the page will load as expected.