Uehara Takuya

Now

-

TeniMyu

Information
Japanese Name
植原卓也 (うえはら たくや)
Romaji
Uehara Takuya
Born In
Osaka, Japan
Birthday
June 22, 1988
Age
30
Character
Oshitari Kenya
Generation
Shitenhoji A
Portrayers
Previous
N/A
Next
Mizuta Kouki
Takuya Uehara (植原卓也 Uehara Takuya) is a Japanese actor born on June 22, 1988 in Osaka, Japan. He is also a former member of the hip-hop group HEADS. Currently, Uehara's headed by AMUSE Inc.
Notably, he participated in the musical theater adaption of manga series 'Kuroshitsuji', alternatively known as 'Black Butler', as the character Grell Sutcliff.
In TeniMyu Uehara plays the role of Oshitari Kenya as a part of Shitenhoji A, the first-generation Shitenhoji cast of season one.
TeniMyu
Theater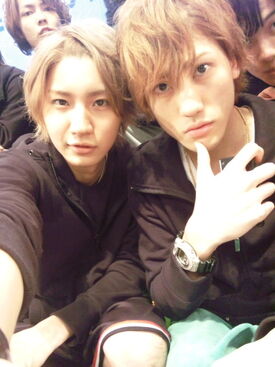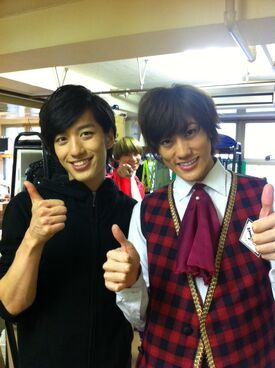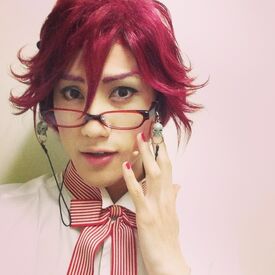 FROGS(2007年 - 2009年)フクロウ・ヒロシ 役
ブルーシーツ(2008年1月、紀伊國屋ホール/シアターBRAVA!)江間 役
ロストデイズ(2008年5月、赤坂レッドシアター)澤口邦弘役
ファミリア(2008年10月 - 11月)南茂英雄 役
音楽舞闘会 黒執事 〜その執事、友好〜(2009年5月 - 6月、サンシャイン劇場)グレル・サトクリフ 役
パッチギ!(2009年12月、新国立劇場中劇場)
BLACK PEARL(2010年4月、紀伊國屋サザンシアター)ウォッカ 役
ミュージカル黒執事 -The Most Beautiful DEATH in The World- 千の魂と堕ちた死神(2010年5月、赤坂ACTシアター ほか)グレル・サトクリフ 役
BLACK&WHITE 悪魔のテンシ 天使のアクマ(2010年8月 - 9月、サンシャイン劇場)クロ 役
朗読劇 私の頭の中の消しゴム(2010年9月、天王洲銀河劇場)浩介 役
カレーライフ(2011年5月、天王洲銀河劇場)サトル 役
冒険絵本 PINOCCHIO -ピノキオ-(2011年8月、渋谷区文化総合センター大和田/シアターBRAVA!)オカマの女神 役
Mystic Topaz(2011年10月、シアターサンモール)
朗読 カレーライフ(2011年12月、サンシャイン劇場)サトル 役
エンロン(2012年4月 - 5月、天王洲銀河劇場 ほか)
カワイクなくちゃいけないリユウ(2012年6月、新国立劇場小劇場/兵庫県立芸術文化センター)ケント 役
JEWELRY HOTEL(2012年7月、紀伊國屋ホール)
阿呆の鼻毛で蜻蛉をつなぐ(2012年9月、本多劇場)
朗読劇 カワイクなくちゃいけないリユウ(2013年2月、新国立劇場小劇場)
ミュージカル黒執事 -The Most Beautiful DEATH in The World- 千の魂と堕ちた死神 再演(2013年5月 - 6月、赤坂ACTシアター/梅田芸術劇場)グレル・サトクリフ 役
Filmography
TV
Sh15uya(2005年1月 - 3月、テレビ朝日)DJ 役
ガチバカ!(2006年1月 - 3月、TBS)馬場真介 役
紺野さんと遊ぼう(2008年3月 - 4月、WOWOW)内山克己 役
スミレ16歳!!(2008年4月 - 6月、BSフジ)加藤 役
Q10 第3話(2010年10月、日本テレビ)西一馬 役
サイン(2011年1月 - 3月、毎日放送)主演・大江童司 役
Fallen Angel(2012年1月 - 3月、BS朝日)相葉陸 役
プレミアムよるドラマ「お父さんは二度死ぬ」(2013年6月1日 - 6月22日、NHK BSプレミアム)- 井ノ原刑事 役
Movies
The Game ~ Boy's Film Show ~ (2010)
Kamisama Help! 神様ヘルプ! (2010)
Keitai Kareshi 携帯彼氏 (2009)
Aquarian Age: Juvenille Orion アクエリアンエイジ 劇場版 (2008)
Websites