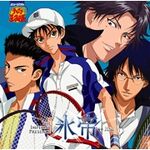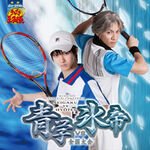 'Versus - VS' (ヴァーサス・VS(ヴィーエス) Vu~āsasu VS (vu~īesu)) is performed in:
Vaasasu Vii Esu

Vaasasu Vii Esu


Mohaya chikara wa gobu to gobu

Kachimake wa toki no un

Kikkou suru jitsuryoku no ryousha

Yosoku tsukanai shousha to haisha

Kaze wa dochira ni fuku no ka?

Vaivreeshon izu senshitiv

Sore wa vii esu Sunawachi Vaasasu


Vaasasu Vii Esu

Vaasasu 

Seigaku vaasasu hyoutei!

ヴァーサス・ヴィーエス

ヴァーサス・ヴィーエス


もはや力は五分と五分

勝ち負けは時の運

拮抗する実力の両者

予測付かない勝者と敗者

風はどちらに吹くのか?

ヴァイヴレーション・イズ・センシティヴ

それはヴィーエス すなわちヴァーサス


ヴァーサス・ヴィーエス

ヴァーサス

青学ヴァーサス氷帝!

Sources
Ad blocker interference detected!
Wikia is a free-to-use site that makes money from advertising. We have a modified experience for viewers using ad blockers

Wikia is not accessible if you've made further modifications. Remove the custom ad blocker rule(s) and the page will load as expected.