Taisuke Wada (和田泰右 Wada Taisuke), born on October 17, 1986, is a Japanese actor, dancer, singer, and model from Tokyo, Japan.
Since 2003, he's studied various types of dances including hip hop, house, ballet, rock, and jazz. In May 2010 he joined DIAMOND☆DOGS, a J-Pop group led by Yoshihisa Higashiyama.
During his time at TeniMyu, he joined Rikkai B, the second-generation Rikkai cast and the last of the first season, as an alternate for Nakagauchi Masataka, the main portrayer of his character Niou Masaharu. He would switch with Nakagauchi based on a schedule and this went on up until the production's last performance, Dream Live 7th.
TeniMyu
Theater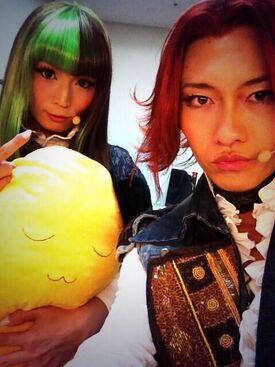 DIAMOND☆DOGS
Call Me Hero!(2007)
グリース(2008)
君に捧げる歌(2008)
Other Performances
BOYZ BALLET FANTASY 2011「SWAN LAKE」
ニジンスキー~神に愛された孤高の天才バレエダンサー~(2012年)-スタニスラフ・ニジンスキー役
Filmography
TV
Movies
Websites
Ad blocker interference detected!
Wikia is a free-to-use site that makes money from advertising. We have a modified experience for viewers using ad blockers

Wikia is not accessible if you've made further modifications. Remove the custom ad blocker rule(s) and the page will load as expected.