Ad blocker interference detected!
Wikia is a free-to-use site that makes money from advertising. We have a modified experience for viewers using ad blockers

Wikia is not accessible if you've made further modifications. Remove the custom ad blocker rule(s) and the page will load as expected.
Watanabe Daisuke

Now

-

TeniMyu

Information
Japanese Name
渡辺 大輔(わたなべ だいすけ)
Romaji
Watanabe Daisuke
Born In
Aikawa, Kanagawa Prefecture, Japan
Birthday
November 6, 1982
Age
34
Character
Tezuka Kunimitsu
Generation
Seigaku 4th
Portrayers
Previous
Minami Keisuke
Next
Baba Ryoma
Daisuke Watanabe (渡辺 大輔 Watanabe Daisuke, born November 6, 1982) is a Japanese actor. He's headed by BMI Inc.
He's known for working in various musicals as well as his role as Saki Giichi in the movie series, Takumi-kun which also features TeniMyu actors such as Hamao Kyosuke, Takahashi Yuuta, and Yanagishita Tomo (Daisuke was excluded from the movie featuring Tomo).
Watanabe was part of the fourth-generation Seigaku cast playing the role of Tezuka Kunimitsu as a part of its fourth-generation cast. Additionally he's plays his character in Best Actor Series 011, which is a CD series of notable TeniMyu actors.
TeniMyu
Theatre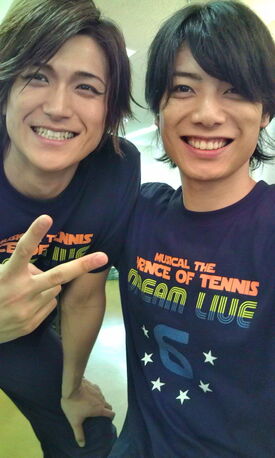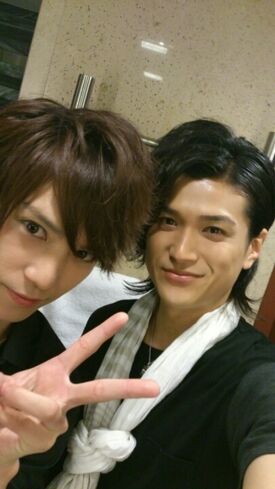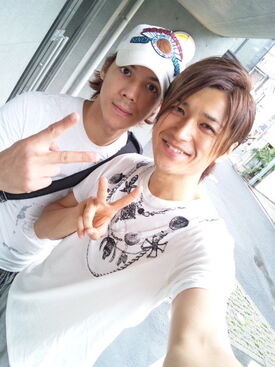 ウルトラマンプレミアステージ(2007年5月、中日劇場) - イカルガ・ジョージ 役
桜 SAKURA サクラ(2009年3月、前進座劇場)
ナナシ(2009年6月、全労済ホールスペース・ゼロ ほか) - 鷹丸 役
Rock'n Jam Musical(2009年9月、新国立劇場)
リストランテ(2009年12月、シアターサンモール) - ツヨシ 役
BUTLER×BATTLER 〜執事王選手権〜(2010年1月、シアターサンモール) - ミライ 役
home(2010年7月、赤坂RED/THEATER) - まさる 役
人生はショータイム!(2010年9月 - 10月、全労済ホールスペース・ゼロ)
トラブルショー(2010年11月、IMAホール)
ミラクル☆トレイン〜大江戸線へようこそ〜(2010年12月、全労済ホールスペース・ゼロ) - 新宿凛太郎 役
VOYAGE 〜光の射す方へ〜(2011年3月、シアターサンモール) - 主演 ジンギ 役
プリンスセブン -フツーの王子をぶっとばせ!!-(2011年4月、シアターグリーン) - ドック 役
ウルトラマンプレミア2011(2011年5月、中日劇場) - 主演 シン 役
ロイヤルホストクラブ(2011年6月、シアター1010) - 主演 芥川直木 役
LOVE(2011年7月、赤坂RED/THEATER) - 深川竜一 役
カンタレラ(2011年8月、全労済ホールスペース・ゼロ ) - ジョバンニ・メディチ 役(友情出演)
恋、ほのか 〜何年後かのI love you〜(2011年9月、六行会ホール) - 主演 中川純 役
男子ing!!(2011年10月、相鉄本多劇場) - シンゴ 役
EAST SIDE STORY(2011年12月、全労済ホールスペース・ゼロ) - あつし 役
不思議な町の王子様(2012年2月、シアターサンモール) - 主演 一条蘭 役
カンタレラ2012 〜裏切りの毒薬〜(2012年3月、博品館劇場) - ジョバンニ・メディチ 役
能朗読 船弁慶(2012年4月/5月、アムラックスホール/宝生能楽堂) - 源義経 役 / ナビゲーター
ミラクル☆トレイン〜大江戸線へようこそ〜 2nd approach(2012年4月、全労済ホールスペース・ゼロ) - 新宿凛太郎 役
五線紙の上のジェーン(2012年6月、あうるすぽっと) - 山城克人 役
浮遊するfitしない者達(2012年7月、紀伊國屋ホール)
コミックス☆GO!GO!(2012年8月、俳優座劇場) - 主演 戸塚治 役
客家-HAKKA-(2012年11月、天王洲銀河劇場)
夜のミラクル☆トレイン〜大江戸線へようこそ〜 SWEET DREAM EXPRESS(2012年12月、新宿FACE) - 新宿凛太郎 役
舞台版 不毛会議(2013年1月、CBGKシブゲキ!!) - 荒畑中尉 役
不思議な町の王子様 第二章(2013年2月、シアターサンモール) - 主演 一条蘭 役
ミュージカル「天翔ける風に」(2013年6月10日 - 25日、シアタークリエ/6月29日 - 30日、梅田芸術劇場) - 志士ヤマガタ 役
ポチッとな。-Switching On Summer-(2013年7月11日、俳優座劇場)※ゲスト出演
ミュージカル ドラキュラ(2013年8月23日 - 9月8日、東京国際フォーラム) - ジャック・スアード医師 役
LIVING ADV「STEINS;GATE」(2013年10月12日 - 20日、Zepp Diver City) - 主演 岡部倫太郎 役
CLUB SLAZY The 2nd invitation~Sapphire~(2013年12月6日 - 15日、全労済ホール・スペースゼロ) - 主演 King 役
Filmography
TV
ウルトラマンメビウス(2006年、CBC/TBS) - イカルガ・ジョージ隊員 役
男子ing!!(2012年9月14日 - 、TOKYO MX)
Movies
ウルトラマンメビウス&ウルトラ兄弟(2006年) - イカルガ・ジョージ 役
タクミくんシリーズ2 虹色の硝子(2009年) - 崎義一 役
携帯彼氏(2009年)
華鬼(2009年) - 士都麻光晴 役
タクミくんシリーズ3 美貌のディテイル(2010年) - 崎義一 役
タクミくんシリーズ4 Pure〜ピュア〜(2010年) - 崎義一 役
ガチンコ 喧嘩上等(2010年) - 木下次郎 役
タクミくんシリーズ5 あの、晴れた青空(2011年) - 崎義一 役
不毛会議(2013年) - 荒畑中尉 役
僕たちの高原ホテル(2013年秋公開予定)- 沢城柳也 役
Websites