Kouji Watanabe (渡部紘士 Watanabe Kōji), born on August 12, 1981, is a Japanese actor. He's part of an acting unit called 'TOMHOUSE' with TeniMyu affiliate Hara Masaki.
In TeniMyu he played the role of Kawamura Takashi as a part of the third-generation Seigaku cast.
TeniMyu
Theater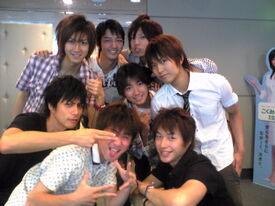 蒲田行進曲
ホームカミング
クラウディアからの手紙
ミュージカル『DEAR BOYS』vs.EAST HONMOKU(薬師丸元)
「マージナル」~砂漠編・都市編~(フェロペ/ローニ)
空間ぜりー『夏の夜の夢』2008年12月出演予定
時速246億 vol.03『ささやかなこの人生』(2009年5月13日‐17日、恵比寿・エコー劇場)
時速246億 vol.04『記憶メモリン』(2010年4月16日‐21日、赤坂RED THEATER)
劇団VitaminX ~Legend Of Vitamin~ (2010年9月26日 - 10月4日、前進座劇場) - 斑目瑞希 役
劇団たいしゅう小説家 Present`s IOH 公演 「熱風 EVOLUTION~ extra story of 天使の涙~」 (2010年11月11日-23日、シアター711)
熱風不敵舞台vol.4「トリリオンモンスター](2011年1月25日、萬劇場)
MOSH SHORT COLLECTION 02「勝手にしやがれ」(2012年4月19日‐22日、GEKI地下リバティ)
時速246億 vol.06『リボン』(2012年10月23日‐28日・赤坂RED THEATER、2012年11月3日‐4日・名古屋テレピアホール)
Filmography
TV
恋のから騒ぎドラマSP「笑われる女」(NTV)
仮面ライダーカブト
Movies
凶気の桜
小町、17才
疾風
同じ月を見ている
禁断の恋
Websites
Ad blocker interference detected!
Wikia is a free-to-use site that makes money from advertising. We have a modified experience for viewers using ad blockers

Wikia is not accessible if you've made further modifications. Remove the custom ad blocker rule(s) and the page will load as expected.