Yaguchi Sora

Now

-

TeniMyu

Information
Japanese Name
矢口 空(やぐち そら)
鶴見 知大 (つるみ ともひろ)
Romaji
Yaguchi Sora
Tsurumi Tomohiro
Born In
Ibaraki Prefecture, Japan
Birthday
September 8, 1985
Age
31
Character
Kawamura Takashi
Generation
Seigaku 6th
Portrayers
Previous
Chou Ikko
Next
Shohei
Sora Yaguchi (矢口 空 Yaguchi Sora), born on September 8, 1985, is a Japanese actor and model. His previous stage name was Tomohiro Tsurumi (鶴見 知大 (つるみ ともひろ) Tsurumi Tomohiro).
Given that, some TeniMyu fans get a bit confused as to whether there were two Kawamura actors in the sixth-generation cast because he changed his name midway through his work within the production.
He's currently headed by Queens Factory.
TeniMyu
Theater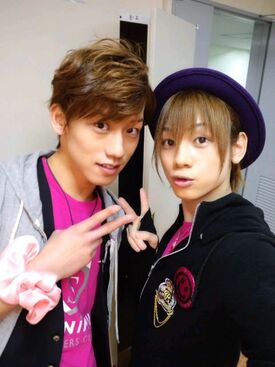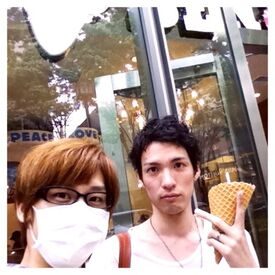 ミュージカル「DEAR BOYS」 藤原拓弥役(2007年12月)
「BOYS LOVE stage」草刈修役、クサカリ役(2008年4月)
ミュージカル「DEAR BOYSvs.EAST HONMOKU」 藤原拓弥役(2008年7月)
「幕末太陽伝~RUN&RUN」櫂駿輔役(2009年1月)
「恋人は透明人間」近藤役(2009年7月)
「CONTINUE-Ultimate Games-」(2009年10月)
「タクミくんシリーズ~そして春風にささやいて~」 片倉利久役(2009年12月)
Be With プロデュース VOL.10 <Christmas Carol>(2009年12月)
「美童浪漫大活劇~八犬伝~第一部」 網乾左母二郎役(2010年7月)
「不思議な町の王子様 第二章」芹沢那智役 (2013年2月)
Be With プロデュース VOL.25 THE BUTTERFLY EFFECT CHRONICLE<Blood Heaven~第七天国 Sad wings>(2013年4月)
「ラズベリーボーイ!!」熊川潤一役(2013年10月)
Filmography
TV
月曜ゴールデン 西村京太郎サスペンス 十津川警部シリーズ 第40回作特別記念作品「生命」(TBS)
「シャキーン」(NHK)
「サキよみ ジャンBANG!」(テレビ東京)
「男子ing ラズベリーボーイ&ガール(仮)」(TOKYO MX)
Movies
「20世紀少年 <最終章> ぼくらの旗」 氷の女王一派メンバー役(2009年)
Websites
Ad blocker interference detected!
Wikia is a free-to-use site that makes money from advertising. We have a modified experience for viewers using ad blockers

Wikia is not accessible if you've made further modifications. Remove the custom ad blocker rule(s) and the page will load as expected.