Ikkei Yamamoto (山本一慶 Yamamoto Ikkei), born on June 1, 1989, is a Japanese actor from Tokyo, Japan. He's headed by Sala Entertainment.
In TeniMyu he plays the seventh-generation Oishi Shuichiro.
TeniMyu
Theater/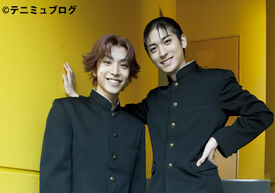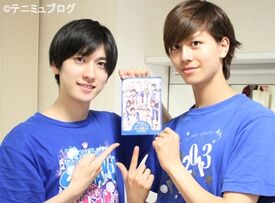 『裏切りは僕の名前を知っている』東京・銀座・博品館劇場 碓氷愁生役
『C調サムライ』新宿・永谷ホール
『スタント』池袋・シアターKASSAI 前田アキラ役
『FILM STAR』中目黒キンケロシアター 星唯一役
『ソラオの世界』(西田シャトナー演出)東京芸術劇場
『毛皮のマリー』(美輪明宏主演)ル・テアトル銀座 東京・銀座 博品館劇場 他全国公演 美女の亡霊役
Filmography
TV
Dramas
『特命戦隊ゴーバスターズ』(EX)Mission24同級生役
『デカ☆黒川鈴木』(NTV)第11話 三上健太役
『BOSS』(CX) バーテン役 レギュラー
『ギラギラ』(EX)アトラスのホスト役 レギュラー
『ここはグリーンウッド』(KTV)栃沢(1年/寮生)役 レギュラー
Movies
『リアル鬼ごっこ3』安里麻里監督
『テケテケ』内海圭太役
Websites
Ad blocker interference detected!
Wikia is a free-to-use site that makes money from advertising. We have a modified experience for viewers using ad blockers

Wikia is not accessible if you've made further modifications. Remove the custom ad blocker rule(s) and the page will load as expected.