Yamaoki Yuuki

Now

-

TeniMyu

Information
Japanese Name
山沖 勇輝 (やまおき ゆうき)
Romaji
Yamaoki Yūki
Born In
Kanagawa Prefecture, Japan
Birthday
March 5, 1991
Age
26
Character
Yanagi Renji
Generation
Rikkai B
Portrayers
Previous
Ono Kento
Next
Mizuishi Atomu
Yuuki Yamaoki (山沖勇輝 Yamaoki Yūki), born on March 5, 1991, is a Japanese actor from the Kanagawa Prefecture of Japan.
He's affiliated with NAKEDBOYZ, an acting troupe also associated with TeniMyu actors Kawamoto Ryo, Fukuyama Seiji, Takahashi Yuuta, and Matsuoka Yuki, and is headed by Vocal Ltd.
In TeniMyu he played the second-generation Yanagi Renji, the last portrayer of the character for the first season.
TeniMyu
Theater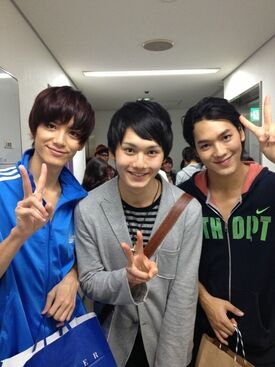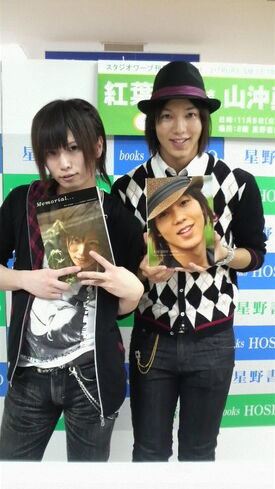 ありがとうサボテン先生(2002年3月6日 - 28日、日生劇場) - 淳 役
ミュージカルレビュー Kiddy(2003年 - 2007年、博品館劇場・日本橋劇場)
イリュージョンWiZ(2007年 - 、豊島園・富山オーバードホール 他)
ミュージカル ココ・スマイル(2010年8月25日 - 30日、シアターサンモール) - 斉藤祐一 役
世界は僕のCUBEで造られる(2010年11月17日 - 21日、新宿シアターブラッツ) - 主演「僕」役
ミュージカル トゥルークリスマス〜奇蹟のおまじないジングルジングラ〜(2010年12月22日 - 26日、東京芸術劇場小ホール1) - レオ 役
笑うマネキねこ(2011年1月26日 - 2月6日、下北沢シアター711) - 笹木千太郎 役(Aキャスト)
時空警察ヴェッカーサイト(2011年2月24日 - 27日、伝承ホール) - 時空刑事シン 役
VAMPIRE HUNTER(2011年6月22日 - 26日、笹塚ファクトリー) - アウデンティア 役
夏の夜の夢〜から騒ぎの森〜(2011年7月26日 - 31日、ブディストホール) - 妖精パック 役
下北箱庭HEARTs(2011年8月31日 - 9月11日、下北沢シアター711) - 西野進 役
メモ・リアル the THEATRE!(2011年9月18日 - 10月2日、全電通ホール 他) - 武士 役ほか
SOUL FLOWER(2011年11月9日 - 13日、笹塚ファクトリー) - クロサワコージ 役
神☆ヴォイス〜Go! Go! Dreamers!!〜(2012年3月6日 - 14日、MAKOTOシアター銀座)
あるジーサンに線香を(2012年4月20日 - 28日、三越劇場・中日劇場)
自分が嫌いになる、その前に。(2012年10月3日 - 8日、シアターグリーン) - 主演・テト 役
サクラ大戦奏組〜雅なるハーモニー〜(2012年11月1日 - 11日、スペース・ゼロ) - 襟戸勇 役
危機之介御免(2013年4月、シアターグリーン) - 水戸光国 役
佐川男子(2013年5月、築地ブディストホール) - 佐山仁 役
理由なき反抗(2013年5月 - 6月、シアターKASSAI)
Filmography
TV
アイドル都市伝説 #12「猿夢」(2012年10月 - 11月、スカパー・PigooHD) - 若林啓介 役
Movies
時空警察ヴェッカー デッドリーナイトシェード(2012年) - 北島隼人 役
Websites
Ad blocker interference detected!
Wikia is a free-to-use site that makes money from advertising. We have a modified experience for viewers using ad blockers

Wikia is not accessible if you've made further modifications. Remove the custom ad blocker rule(s) and the page will load as expected.