Tomo Yanagishita (柳下 大 Yanagishita Tomo, born June 3, 1988) is a Japanese actor. He is a member of the acting group D-BOYS. Yanagishita joined the unit D-Date (D☆DATE) of the same agency as a new member, which was announced at the last performance of the live tour in Tokyo Dome City Hall on June 29, 2012.
In TeniMyu he plays the role of Kaidoh Kaoru as a part of the third-generation Seigaku cast, though he extends his affiliation with the productions to stay as an alternate for the fourth-generation cast. Additionally he's featured in Best Actors Series 010, which memorializes the third Seigaku cast.
TeniMyu
Theater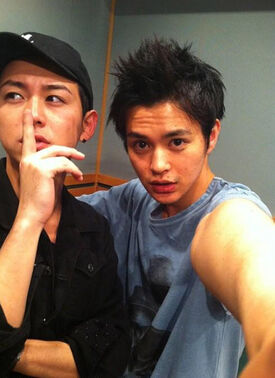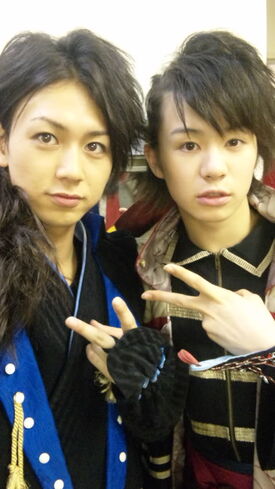 D-BOYS STAGE
vol.1「完売御礼」(2007年6月、演出:茅野イサム) - 柳下清 / 藤堂平助 役
vol.2「ラストゲーム〜最後の早慶戦〜」(2008年6月 - 7月、作:羽原大介 演出:茅野イサム) - 金本明夫 役
vol.3「鴉〜KARASU〜04」(2009年4月、作:羽原大介 演出:茅野イサム) - 太一 役
2010 trial-3「アメリカ」(2010年9月 - 11月、作・演出:赤堀雅秋) - 主演・加藤稔 役
2011 秋公演「検察側の証人 ~麻布広尾町殺人事件~」(2011年10月 - 11月、演出:鈴木裕美 )- 立花洋一 役
2012 10th「淋しいマグネット」(2012年4月 - 5月、演出:茅野イサム ) - シオン 役
Other Performances
OUT OF ORDER 〜偉人伝心〜(2007年3月) - ゲスト
スイッチを押すとき~君達はなぜ生きているんだ?~(2007年10月 - 11月、新国立劇場、演出:岡本貴也) - 小暮君明 役
熱海殺人事件NEXT〜くわえ煙草伝兵衛捜査日誌〜(2011年2月、紀伊國屋ホール、演出:岡村俊一) - 大山金太郎 役
タンブリング vol.3 (2012年8月 - 9月、東京国際フォーラム ホールC、大阪シアターBRAVA、赤坂ACTシアター、演出:増田哲治)- 主演・水沢拓 役
真田十勇士(2013年8月 - 10月、赤坂ACTシアター、中日劇場、梅田芸術劇場、作:中島かずき 演出:宮田慶子) - 猿飛佐助 役
Filmography
TV
Akko to Bokura ga Ikita Natsu (as Nakane Yoshiyuki; 2012)
Hanazakari no Kimitachi e 2011 (Fuji TV, 2011)
Zettai Reido SP (Fuji TV, 2011)
Karyu no Utage (NHK, 2011)
Tumbling [タンブリング] (TBS, 2010)
Shinsengumi PEACE MAKER (TBS, 2010)
Samurai High School (NTV, 2009)
Akai Ito as Fujiwara Natsu (Fuji TV, 2008)
100 Views of Romantic Love (as himself; 2008)
Yonimo Kimyona Monogatari (Fuji TV, 2007)
Renai Shindan as Tsubasa (TV Tokyo, 2007)
Nozokiya as Takeshi (TV Tokyo, 2007)
Sunadokei (as Yousuke Sonoda; TBS, 2007)
Detective Conan (NTV, 2006)
Movies
Vampire Stories - Brothers (as Sei; 2011)
Sho no Michi (as Jinchi; 2009)
Akai Ito (2008)
Taiga Roman (2008)
Sakura no Sono as Machida Shuu (2008)
Bra bra Ban ban (2008)
Takumi-kun: Soshite, Harukaze ni Sasayaite as Takumi (2007)
Detective Conan: Kudo Shinichi's Written Challenge (as Shinichi's classmate; 2006)
Websites
Ad blocker interference detected!
Wikia is a free-to-use site that makes money from advertising. We have a modified experience for viewers using ad blockers

Wikia is not accessible if you've made further modifications. Remove the custom ad blocker rule(s) and the page will load as expected.