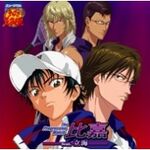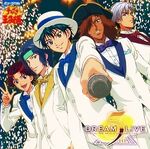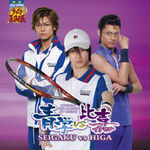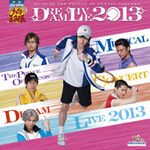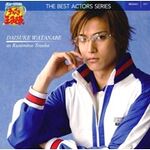 'Yomigaerishi mono' (よみがえりし者 Yomigaerishi mono) is seen in:
"Oishi, sore wa ore ni hikasete kurenai ka?"


"…Tezuka!?"


Tatakai no basho ni modotte kita
Chouten ni nobori tsumeru tame
Nakama no inori wo Shikato kiki todoke
Ima Yomigaerishi mono
Tsuki hi wo kake fukattsu wo hatashita
Zenkoku yuushou wo suru tame
Nakama to futatabi Te wo tsunagi aou
Ima Yomigaerishi mono


Hajimaru Ima Aratana tatakai
Takamaru Ima Aratana toushi
Furui kara wo nugi sutete
Yomigaetta ore da
Hirumu koto nado nani mo nai
Donna taisen aite demo


"Tezuka, omae, itsu Tokyo e!?"

「大石、それはおれにひかせてくれないか?」
「……手塚っ!?」


戦いの場所に戻ってきた
頂点に登りつめるため
仲間の祈りを しかと聞き届け
今 よみがえりし者


月日をかけ復活を果たした
全国優勝をするため
仲間と再び 手をつなぎ合おう
今 よみがえりし者


始まる 今 新たな戦い
高まる 今 新たな闘志
古い殻を脱ぎ捨てて
よみがえった俺だ
ひるむ事など何もない
どんな対戦相手でも

「手塚、お前、いつ東京へ!?」

Sources
Ad blocker interference detected!
Wikia is a free-to-use site that makes money from advertising. We have a modified experience for viewers using ad blockers

Wikia is not accessible if you've made further modifications. Remove the custom ad blocker rule(s) and the page will load as expected.