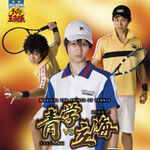 Alternatively known as 'Yuujou no Tennis' (友情のテニス Yūjō no tenisu) or 'Friendly Tennis', 'Yujou no Tennis' is seen in:
Ganbatte kure Inotteiru

Shinjiteiru yo Zettai katsu tte Make wa shinai


Chigau jikan ikiteite mo Kokoro wa hitotsu da yo

Doko ni ite mo mieru sa Minna no tatakau sugata ga

Kyou mo ashita mo Hitori dakedo

Donna toki demo Nakama daze


Makete wa naranu Kanarazu kate

Make wa ikenai Zettai katsu koto Sore ga okite Yuujou no okite

幸村: 頑張ってくれ 祈っている

信じているよ 絶対勝つって 負けはしない


違う時間生きていても 心は一つだよ

どこにいても見えるさ みんなの戦う姿が

協も明日も 一人だけど

どんなときでも 仲間だぜ


負けてはならぬ 必ず勝て 

負けはいけない 絶対勝つ事 それが掟 友情の掟

Work hard 

I'll be praying for you

Believe in yourself 

You'll definitely win


Even though our lives follow different paths right now 

Our hearts are one

No matter were I am 

I can see everyone's fighting form

Today, tomorrow and even if I am alone

No matter when, I'll be your comrade


Don't lose Win without fail

Losing is not allowed Take the win for sure

That's our law

That's the law of our friendship

Source
Ad blocker interference detected!
Wikia is a free-to-use site that makes money from advertising. We have a modified experience for viewers using ad blockers

Wikia is not accessible if you've made further modifications. Remove the custom ad blocker rule(s) and the page will load as expected.