Yuki Jutta

Now

-

TeniMyu

Information
Japanese Name
夕輝壽太 (ゆうき じゅった)
Romaji
Yūki Jutta
Born In
Brazil
Birthday
May 27, 1985
Age
32
Character
Jackal Kuwahara
Generation
Rikkai A
Portrayers
Previous
N/A
Next
Toda Shingo
Jutta Yuki (夕輝壽太 Yūki Jutta), born on May 27, 1985, is a Japanese actor from Brazil. During his acting career he's appeared in various dramas and movies, notably Gokusen: The Movie in 2009.
As a part of the TeniMyu productions, Yuki played the role of the Jackal Kuwahara as a part of Rikkai A, the first Rikkai cast of the musical. Interestingly enough, instead of resorting to using a wig cap for the role, he instead shaved off his hair.
He's headed by Stardust Promotion.
TeniMyu
Theater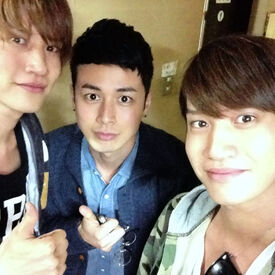 Filmography
TV
Movies
Trivia
Websites
Ad blocker interference detected!
Wikia is a free-to-use site that makes money from advertising. We have a modified experience for viewers using ad blockers

Wikia is not accessible if you've made further modifications. Remove the custom ad blocker rule(s) and the page will load as expected.